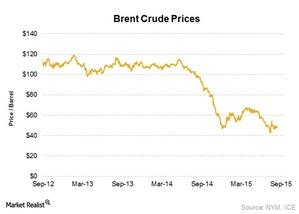 Offshore Drillers Suffer as Oil Prices Remain below Break-Even
Oil prices
A key factor in the fortunes of the offshore drilling industry, crude oil prices touched $47.76 per barrel on September 18, 2015. The last week of August saw some positive sentiments, and Brent crude oil rallied from $43 per barrel to $54 per barrel. However, this rally came to a halt and we saw prices tumbling in September.
Article continues below advertisement
Oil prices and the offshore industry
Lower oil prices hamper the cash flows and profitability of oil companies. Offshore drilling (OIH) demand is driven by the capital budgets of these oil companies. These budgets are based on expectations of future oil prices, as well as their current profitability and availability of free cash flow.
When oil prices are expected to increase, the capital spending plans of oil companies also increase. When oil prices are expected to decrease, the capital spending plans of oil companies decrease. With this direct correlation, when spending plans increase, the demand for rigs also go up, and vice versa.
Break-even prices
Offshore rigs remain operational for decades, and oil prices need to stay above the break-even prices over the longer horizon for oil companies to reap profits. According to Rystad Reports, the break-even oil price for shallow water projects is around $71 per barrel, while deepwater and ultra-deepwater projects need oil prices to be around $77 and $64 per barrel, respectively, to cover their costs.
Oil price expectations
The EIA (U.S. Energy Information Administration) forecasts the average Brent crude price for 2015 to be $54 per barrel while for 2016, it forecasts Brent crude to be $59 per barrel. Goldman Sachs predicts oil prices to be near $50 per barrel for the next 15 years. As the forecast for oil prices is below the break-even prices, this significantly affects the drilling plans of oil companies.
As long as oil prices are below break-even levels required for offshore projects to be profitable, the offshore industry and the associated companies like Enco (ESV), Seadrill (SDRL), Noble Corp (NE), Transocean (RIG), Atwood Oceanics (ATW), Diamond Offshore (DO), Rowan Companies (RDC), and Pacific Drillers (PACD) are expected to continue to perform poorly.