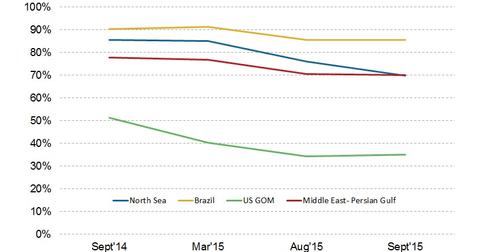 Which Offshore Basin Has the Highest Utilization Rate?
By Sue Goodridge

Updated
Global utilization rate
According to Rigzone, as of September 22, 2015, there are a total of 908 rigs across all the offshore basins. Out of these, only 513 rigs are currently working, yielding a utilization rate of 56.5%. This is far lower than the utilization rate of 71.2% from a year ago. Higher and rising utilization rates are a positive sign for offshore drillers.
The utilization rate gives us the ratio between the rigs being used and the total rigs. Along with the utilization rates for jack-ups and floaters, it is also important to track utilization rates for all offshore basins. This helps to gauge which region performs better compared to the others.
Article continues below advertisement
The breakeven costs for offshore drilling in all areas differ. Also, the financial health of oil companies across regions differ, which impacts their capital spending capability. This, in turn, affects rig demand across regions. Companies that have rig operations in regions with high utilization rates benefit more when compared to companies that have a presence in regions with low utilization rates.
US Gulf of Mexico
The US Gulf of Mexico is one of the hardest-hit offshore basins. It has one of the lowest utilization rates of 35%, almost the same from last month and down from 52% recorded a year ago. According to the EIA (U.S. Energy Information Administration), the development of deepwater drilling has accelerated over the years due to technological advancements. This in turn lowered the demand for shallow water rigs.
Also, shale oil is imposing pressure on offshore drillers. Unlike many international markets, very few jack-ups in the Gulf are under term contracts. Most of the contracts are on a well-to-well basis, which hampers the utilization rate significantly when the market is not performing well.
Article continues below advertisement
North Sea and Middle East
Utilization rates in the North Sea decreased to 70% compared to 75% from last month and 88% from a year ago. The Middle East recorded a higher utilization rate of 71% compared to last month's 70%. Comparatively, the Middle East is one of the least affected regions as its utilization rate of 76% from a year ago has fallen less severely than other regions.
Rowan Companies (RDC) operates in the Middle East region. Overall, falling and low utilization rates give a bleak outlook for the offshore drilling (OIH) industry.