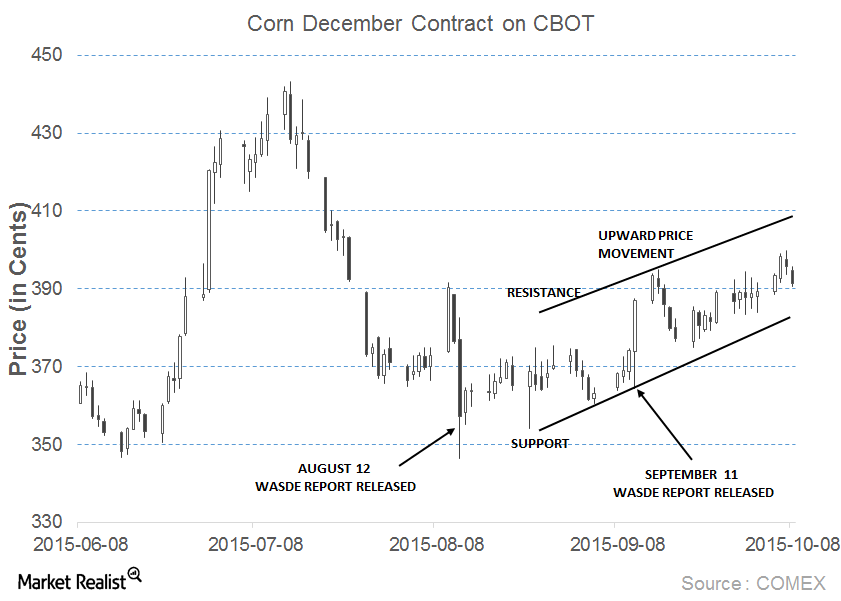 The October 9 WASDE Report and Its Impact on Corn Prices
By Sean Brown

Oct. 9 2015, Published 2:13 p.m. ET
Price channel
The CBOT (Chicago Board of Trade) December delivery of corn futures contracts declined on October 8, 2015, for the second trading day in a row after a four-day price rally. Speculative profit booking continued at a higher rate on October 8. The expectations indicate that this trend might continue on October 9, 2015, just before the release of the WASDE (World Agriculture Demand and Supply Estimation) report. Producers' expectations—that the price of corn will rise after the October 9 supply report releases—might come to fruition, confirming consensus market sentiments.
Article continues below advertisement
Support and resistance
Corn prices progressed on the channel, having support and resistance levels at $3.80 and $4.10 (converted from cent price on the graph above) on October 8, 2015. However, it has been observed that there have been significant changes in the expectations for price patterns, pending the release of the US Department of Agriculture's WASDE report on October 9. Traders and speculators have thus been trying to square-off event risks because they thought that settlement prices had remained too long above the 20-, 50-, and 100-day moving averages. Following the report, they suspected, prices might take a dip.
But due to this second straight day of decline, corn futures prices are trending in the lower range of typical price patterns. At the open of the previous day, interest showed a more modest decline of 0.82% to 118,254 contracts on the day.
The volatility at the opening of the WASDE report release day, October 9, was historically high for average trading days due to the uncertainty factor. The current implied volatility factor was at 24.11—between the 5- and 10-day implied volatility, suggesting that volatility has in fact not been very high. But according to analysts, the October 9 WASDE report will reveal that acreage surpluses will continue to play a role. Analyst expectations for the latest corn yield were in the range of 161 to 170 bushels per acre, with an average of 166.6 bushels per acre.
Ticker discussion
The share prices of food companies such as Tyson Foods (TSN), CHS (CHSCP), Bunge (BG), and Archer Daniel Midlands (ADM) increased on October 8, 2015, each continuing price rallies over multiple trading days. ConAgra Foods rose on October 8, after two consecutive days of decline. The price of the Power Shares DB Agriculture ETF (DBA) declined slightly on the same day, for the second day in a row.
Read the next part of this series for a look at related soybean prices.