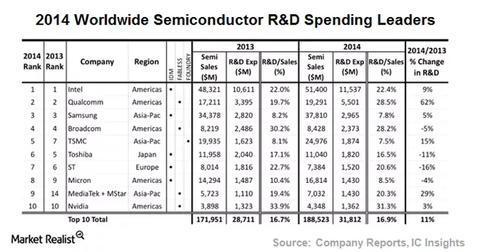 NVidia Focuses on Research and Development
By Adam Rogers

Oct. 1 2015, Published 11:30 a.m. ET
Investments in research and development
Semiconductor companies generally invest a sizeable portion of revenue into R&D (research and development), because the industry is shaped and defined by rapid technological change. As a result, it's essential that companies invest in the R&D space to retain a competitive edge compared to other companies.
As we can see in the above chart, fabless suppliers like Nvidia (NVDA), Qualcomm (QCOM), and Broadcom (BRCM) had the highest R&D spending as a percentage of sales ratios in 2014, at 31.30%, 28.50%, and 28.20%, respectively. Among its peers, Qualcomm showed the largest percentage increase with a 62% rise in its R&D spending in 2014.
Micron's allocation toward R&D has been only 8.5% of its sales. This isn't good news for its investors and shareholders. The industry requires a huge investment if a company wishes to remain competitive.
Article continues below advertisement
Apple TV an opportunity for NVidia
Nvidia is of the opinion that Apple (AAPL) TV will ensure customers adopt a more versatile set-top platform with respect to media streaming and gaming.
In its blog dated September 10, 2015, NVidia states, "There's no dearth of inexpensive streaming options out there. But what if, like us, you not only prefer high-end solutions, but you also recognize the ever-changing nature of technology and want to future-proof your set-top-box setup? Until now, NVIDIA SHIELD was the only game in town. Yesterday, however, Apple embraced what we've been saying all along: People want more than the run-of-the-mill options that are currently on the market."
NVIDIA accounts for 0.07% of the SPDR S&P 500 ETF (SPY) and 0.31% of the Technology Select Sector SPDR ETF (XLK).