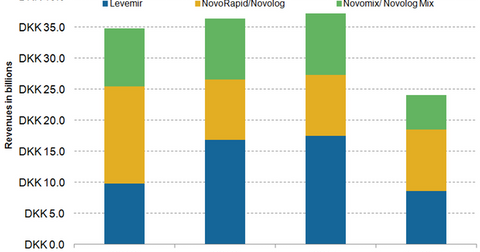 Novo Nordisk Revenues Still Healthy from Modern Insulin Portfolio
By Margaret Patrick

Oct. 2 2015, Updated 8:08 a.m. ET
Modern insulin portfolio
Novo Nordisk's (NVO) modern insulin portfolio is a major growth revenue driver. The company markets modern insulin drugs Levemir, NovoRapid, and NovoMix in North America, Europe, and Asia.
The above graph shows that in the first half of 2015, Levemir, NovoRapid, and NovoMix accounted for 35.6%, 41.1%, and 23.3%, respectively, of Novo Nordisk's total modern insulin sales. Compared to 1H14, Novo Nordisk's modern insulin portfolio recorded a growth of 22% in 1H15 when measured in Danish krone currency (or DKK).
Novo Nordisk's North America and International Operations services 153 countries, including Latin America, Africa, the Middle East, the Gulf, most of Asia, Australia, Oceania, New Zealand, and Region China. These geographies drive the growth of Novo Nordisk's modern insulin portfolio.
Article continues below advertisement
Modern insulin portfolio is also referred to as insulin analogs. According to the University of California, San Francisco Diabetes Teaching Center, "An analog refers to something that is 'analogous' or similar to something else. Therefore, 'insulin' analogs are analogs that have been designed to mimic the body's natural pattern of insulin release. These synthetic-made insulins are called analogs of human insulin."
Modern insulin drugs
Levemir is a long-acting modern insulin and takes longer to control blood sugar. Long-acting insulin is generally the first medicine prescribed to type 2 diabetes patients. Levemir is currently Novo Nordisk's biggest growth driver in the modern insulin portfolio, with sales mainly driven by North America.
In North America, Levemir accounts for 28% of all prescriptions written for long-acting insulin analogs. It has also managed to capture market share from Sanofi's (SNY) once dominant drug, Lantus. Levemir is expected to lose its patent protection in the United States in 2019.
Article continues below advertisement
NovoRapid is a rapid-acting insulin taken just before or with a meal. Generally prescribed to patients with type 1 diabetes, the drug acts quickly to control blood sugar. NovoRapid faces tough competition from Eli Lilly's (LLY) Humalog and Sanofi's Apidra as well as non-insulin–dependent drugs such as Merck's (MRK) Januvia.
NovoMix is a dual release insulin therapy, also called pre-mixed insulins. According to WebMD, "Premixed insulins combine specific amounts of intermediate-acting and short-acting insulin in one bottle or insulin pen." They can be used both to initiate or strengthen the insulin therapy. NovoMix maintains 58% market share in the premix segment.
Novo Nordisk's challenges
China's decelerating growth is expected to be a major challenge for Novo Nordisk's insulin sales. Also, as healthcare systems around the world continue to face cost containment pressures and as more pharmaceutical companies enter the diabetes space, Novo Nordisk may witness a squeeze in profit margins for its modern insulin portfolio.
You can get diversified exposure to Novo Nordisk's modern insulin portfolio while avoiding excessive risks by investing in the VanEck Vectors Pharmaceutical ETF (PPH). Novo Nordisk accounts for 5.05% of PPH's total holdings.