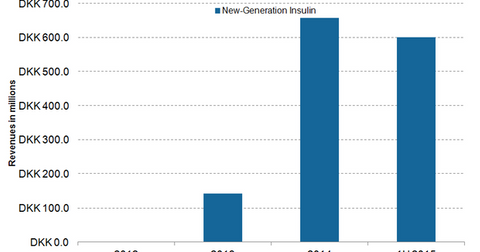 Next-Generation Insulin: Novo Nordisk's Major Growth Driver?
By Margaret Patrick

Oct. 2 2015, Updated 12:08 p.m. ET
Next-generation insulin market
Novo Nordisk (NVO) holds a dominant position in insulin therapy, with 46% market share in the global modern insulin and next-generation insulin market. The company accounts for 63% of the market in China, 52% in international operations, 50% in Japan, 47% in Europe, and 38% in the United States. International Operations includes 153 countries, including Latin America, Africa, the Middle East, the Gulf, most of Asia, Australia, Oceania, and New Zealand. Data from China don't include figures from Hong Kong and Taiwan.
Article continues below advertisement
The above graph shows the strong growth in revenues from Novo Nordisk's next-generation insulin drugs. One of Novo Nordisk's next-generation insulin drugs is Tresiba (insulin degludec). The company also offers Ryzodeg (insulin degludec and insulin aspart) and Xultophy (insulin degludec and liraglutide).
Compared to modern insulins, next-generation insulin therapies act longer to control blood sugar levels in the body. These drugs are expected to be tough competition to already existing insulin therapies such as Merck's (MRK) Januvia, Sanofi's (SNY) Lantus, and Eli Lilly's (LLY) Humalog.
Tresiba and Ryzodeg
On September 25, 2015, Novo Nordisk announced that the FDA (U.S. Food and Drug Administration) has approved Tresiba in the United States after initially rejecting it in 2013. Tresiba is an ultra-long acting insulin. The FDA also approved Ryzodeg, a combination drug containing insulin degludec and insulin aspart, a manmade form of human insulin.
Tresiba, previously approved in 30 countries around the world, has managed to record solid revenue numbers in the Japanese market. Tresiba won't be distributed in Germany as a result of failed price negotiations.
Ryzodeg, currently marketed in Mexico, India, and Bangladesh, has received positive feedback. Xultrophy, a combination of insulin degludec and liraglutide, was first launched in Switzerland and later in Germany and the United Kingdom. Liraglutide is also marketed individually as Victoza. Tresiba and Xultrophy are expected to be the key drivers of Novo Nordisk's growth in Europe.
You can invest in Novo Nordisk's next-generation insulin portfolio and avoid excessive risks by investing in the VanEck Vectors Pharmaceutical ETF (PPH). Novo Nordisk accounts for 5.05% of PPH's total holdings.