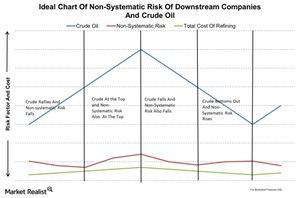 Negative Territory: Refiners' Earnings and Revenue Growth Rates
By Rabindra Samanta

Updated
Market sensitivity of the downstream energy sector
During the volatile third quarter of 2015, when weakness from emerging markets China and Brazil corrected equity markets, betas of stocks rose. However, refiners did not display the same exposure to market risk. The beta of an equal-weighted portfolio comprising of Phillips 66 Company (PSX), Valero Energy Corporation (VLO), Tesoro Corporation (TSO), and Marathon Petroleum Corporation (MPC) had a total beta of ~1.2, representing a slight increase of 2.9% over 2Q15. Tesoro Corporation's (TSO) market sensitivity actually fell by ~15%.
The chart above illustrates the market sensitivity, or beta, of the stocks and the portfolio, with respect to the S&P 500 Index (SPY).
Article continues below advertisement
Deceleration in refiners' revenue growth
Overall, in comparison with the second quarter of this year, refiners have seen a deceleration in revenue and earnings in the third quarter. This has contributed to an increase in volatility.
The above chart illustrates the volatility of the stocks and the portfolio. Compared with 2Q15, estimated EPS (earnings per share) and revenue growth of this portfolio has slowed down to 17.5% and -1.8%, respectively, for 3Q15. To contrast, actual EPS (earnings per share) and revenue growth for 2Q15 over 1Q15 for the portfolio was 107% and 14.5%, respectively. The quarter-over-quarter revenue growth of the portfolio decelerates in every fourth quarter due to seasonality.