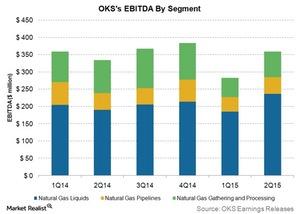 Natural Gas Liquids Segment May Drive OKS's 3Q15 EBITDA Growth
By Rekha Khandelwal, CFA

Oct. 27 2015, Published 5:23 p.m. ET
OKS's segments
ONEOK Partners (OKS) operates the following three segments:
Natural Gas Gathering and Processing
Natural Gas Liquids
Natural Gas Pipelines
The Natural Gas Liquids segment is the biggest, contributing ~66% of OKS's EBITDA (earnings before interest, taxes, depreciation, and amortization). The segment gathers, fractionates, stores, and distributes NGLs (natural gas liquids).
Article continues below advertisement
EBITDA for OKS's Natural Gas Liquids segment
The above graph shows the segmental contribution to ONEOK Partners' EBITDA over six quarters. The acquired West Texas LPG (liquid petroleum gas) pipeline system in the Permian Basin should continue to contribute to OKS's Natural Gas Liquids segment's transportation volumes in 3Q15.
Increased volumes from the natural gas processing plants in the Powder River Basin, the Williston Basin, and the mid-continent regions should contribute to OKS's fee-based revenues from gathering, processing, fractionating, storing, and transporting NGLs. OKS forms ~1% of the Guggenheim Multi-Asset Income ETF (CVY).
EBITDA for OKS's Natural Gas Gathering and Processing segment
ONEOK Partners' Natural Gas Gathering and Processing segment contributed ~21% of the company's total EBITDA in 2Q15. Gathering and processing volumes may continue to grow from new growth projects in mid-continent areas and the Williston Basin.
However, low commodity prices are expected to negatively impact the segment's EBITDA in 3Q15. The segment's percent-of-proceeds contracts expose it to commodity price risks. You can read more about these contracts and risks in ONEOK Partners: How Gas Gathering, Processing Segment Makes Money. OKS is focused on working with producers to convert its existing percent-of-proceeds contracts to include a larger fee component.
Other MLPs with natural gas gathering and processing assets include Targa Resources (NGLS), Tallgrass Energy Partners (TEP), Southcross Energy Partners (SXE), and Summit Midstream Partners (SMLP).
EBITDA for OKS's Natural Gas Pipelines segment
ONEOK Partners' Natural Gas Pipelines segment contributes ~14% of its total EBITDA. The segment transports and stores natural gas. These activities are regulated by the Federal Energy Regulatory Commission. The segment's EBITDA may remain relatively flat in 3Q15 compared to its EBITDA in the same quarter of last year.