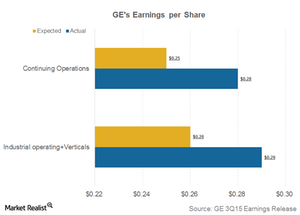 GE's 3Q15 Earnings: Why Are They Particularly Significant?
By Mike Sonnenberg

Oct. 22 2015, Updated 4:14 p.m. ET
GE's 3Q15 Earnings
General Electric (GE) reported its 3Q15 earnings on October 16, 2015. GE is undergoing a transformation with its plans to substantially reduce its dependence on the financial services business and refocus on the traditional industrial segment. Therefore, GE's 3Q15 earnings carry a special significance. For the industrial operating and financial verticals business, GE reported adjusted EPS (earnings per share) of $0.29 in 3Q15, higher than Wall Street analysts' expectation of $0.26. Verticals refer to financial services businesses expected to be retained by GE and primarily includes GECC's (General Electric Capital Corporation) vendor financing operations.
EPS from continuing operations, excluding Synchrony Financial (SYF), came in at $0.28, against analysts' expected $0.25. Lastly, net EPS, including discontinued operations. came in at $0.25.
Article continues below advertisement
Market reaction to GE's 3Q15 earnings
GE's 3Q earnings release surprised markets with higher-than-expected earnings and faster-than-projected progress towards a spin-off of the financial services business. Markets reacted positively to the earnings with stock prices climbing 3.4% on the day earnings were announced. The S&P 500 Index (SPY) was up 0.4% on the same day. On a year-to-date basis until October 16, GE was up 17.8% against a 1.2% drop for the broad-based S&P 500 Index.
About General Electric
GE is an American conglomerate operating in various segments across industries. Under its industrials and verticals business, it provides products and services across power and water, oil and gas, energy, aviation, healthcare, transportation, and appliances and lighting segments.
Through GECC (GE Capital Corporation), GE its conducts financial services business. As discussed earlier, GE is undergoing transformation to refocus on the industrials business to avoid regulatory issues affecting its financial services arm. As part of this initiative, GE is spinning off Synchrony Financial as a stand-alone unit. GE is also downsizing GECC by selling assets and portfolios to third parties. Synchrony Financial is currently reported under GECC.