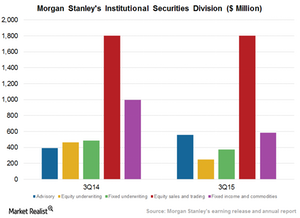 Morgan Stanley Institutional Securities Fall on Fixed Income
By Robert Karr

Updated
Institutional securities
Morgan Stanley (MS) reported that total revenues from Institutional Securities fell to $3.9 billion from $4.5 billion a year ago and $5.2 billion in the previous quarter. The fall was mainly due to lower fixed income trading, lower revenue in credit, and securitized products in a challenging credit market. The uncertainty over interest rates also led to lower activity.
The division's sales, trading, and capital markets activity fell due to seasonality and lower-than-typical activity in September. However, the company saw continued strength in equity sales and trading revenues due to higher client activity across products and regions. The division also benefited from advisory in mergers and acquisitions activity.
Article continues below advertisement
The company's advisory revenues were $557 million. Its equity underwriting revenues were $250 million, and its fixed income underwriting revenues were $374 million. Advisory revenues increased, whereas equity underwriting and fixed income underwriting fell substantially compared to the prior year quarter.
Greater prime brokerage and derivative business partially offset by lower cash equities revenues led to equity sales and trading revenues of $1.8 billion, similar to the prior year quarter. Revenues from fixed income and commodities trading fell substantially to $583 million compared to $997 million in the same quarter a year ago.
Investment banking and corporate lending
Morgan Stanley advises corporations and governments on fundraising activities through equity and other related routes. The company also manages and participates in public offerings and private placements of debt.
The company's corporate advisory services relate to key strategic matters, restructuring, mergers and acquisitions, joint ventures, divestitures, leverage buyouts, spin-offs, and takeover defenses. Morgan Stanley also lends to companies, including bridge financing offerings.
The company witnessed increased levels of transactions in mergers and acquisitions during the third quarter.
Morgan Stanley achieved revenues totaling $38 billion in the last fiscal year. Here's how its peers compare:
Together, these banks make up approximately 21% of the Vanguard Financials ETF (VFH).