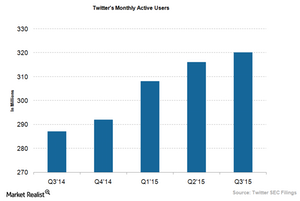 Monthly Active Users Still a Concern for Twitter
By Matilda James

Nov. 13 2015, Updated 12:04 a.m. ET
Flatlined user growth
Twitter (TWTR) reported average monthly active users (or MAUs) of 320 million for the third quarter of 2015. In comparison, MAUs for 2Q15 were 316 million. That's a meager gain of 4 million from the previous quarter. The consensus analyst estimate for MAUs for 3Q15 was 324 million.
Twitter's active users haven't seen much growth in the United States where the number of active users remains flat at 66 million. Most of the growth in active users comes from other markets.
Twitter has been struggling to improve its user growth, a key metric that's affecting the company's overall performance. According to a Business Insider report, more than 1 billion users have visited Twitter but have chosen to exit without signing in.
Twitter is now focusing on the release of its new product launch of Moments. Jack Dorsey made the launch official the day after he took over as Twitter's permanent CEO (chief executive officer). Moments could help boost Twitter's user growth.
Article continues below advertisement
What slowed down MAU growth?
Facebook (FB), which is just two years older than Twitter, has a user base of 1.5 billion compared to Twitter's 304 million, as the graph above shows. Twitter has faced a number of issues that have slowed its MAU growth. In 3Q14, the implementation of an authentication measure negatively affected user growth in a number of Asia-Pacific countries. The authentication measure was reportedly an anti-spam step that prevented Twitter users from logging on using the BlackBerry (BBRY) app.
Similarly, in 4Q14, Twitter said it lost about 1 million users due to the rollout of Apple's (AAPL) iOS 8. Users either forgot their passwords or never bothered to redownload the Twitter app. Twitter then lost another 3 million users due to an integration bug in Apple's Safari mobile browser.
Facebook and Twitter are part of the Vanguard Information Technology ETF (VGT). They account for 4.0% and 0.31% of the ETF, respectively.