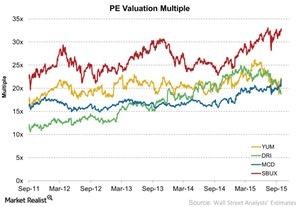 Could McDonald's Valuation Multiple Rise from 3Q15?
By Adam Jones

Updated
Valuation multiple
Previously in this series, we looked at McDonald's (MCD) 3Q15 earnings report and at how the company has shown significant improvements across all its markets in 3Q15. Now let's look at how these factors have affected its valuation multiple PE and see where McDonald's peers are trading.
A company's PE (price-to-earnings) multiple or ratio is measured by calculating its current price over its next four quarters' EPS (earnings per share) estimates. But while the PE ratio is a good valuation multiple that can be used to compare companies with stable earnings, it has some disadvantages. For example, PE ratios don't consider the amount of excess cash and cash equivalents that a company has.
Article continues below advertisement
McDonald's PE multiple
Following its 3Q15 earnings, McDonald's shares increased 8% on positive improvement expectations. The valuation multiple also rose 7.3% as a result of a share price increase. Below are a few things to note:
McDonald's is currently trading at a PE multiple of 21.8x, and if you look at the chart, you can see it's trading at an all-time high.
The company was trading at a low of 16x in October 2014 as the company's growth prospects seemed difficult.
Following the 3Q15 earnings release, analysts increased their next four quarters' EPS estimate to $5.20 per share from $5.10 per share.
For fiscal 2015, analysts are now expecting a -1% growth in EPS but growth of 9% in fiscal 2016.
McDonald's current PE multiple doesn't necessarily mean that the company is expensive. With reinvigorated operational changes and improvement in key markets, the multiple may go even higher.
Currently, McDonald's forms about 0.3% of the First Trust Consumer Discretionary Alpha Fund (FXD).
Peers' PE multiple
The peers in the graph above are trading at an average PE multiple of 23x.
Yum! Brands (YUM) is trading at a PE multiple of 21x. Yum's valuation multiple reached a high of 26x in May 2015 on hopes that China would deliver a significant recovery in 3Q15. But that didn't happen, and the valuation multiple tumbled down to 19x, its lowest point, in October 2015.
Darden (DRI) is trading at a valuation multiple of 18.7x. In February 2015, Darden's valuation multiple reached a high point of 25x. But in October 2015, Darden's valuation reached a low point of 19x.
Starbucks (SBUX) is trading at a multiple of 32x, the highest level the company has traded at for the past four years. In October 2014, Starbucks' valuation multiple hit a low point of 23x.
For more restaurants updates, visit our Restaurants page.