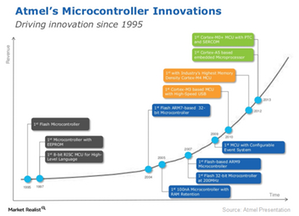 What Makes Atmel an Attractive Acquisition Target?
Semiconductor manufacturers eye Atmel 
In the previous part of the series, we saw that many semiconductor manufacturers had made an offer to buy Atmel (ATML). Microchip Technology (MCHP), ON Semiconductor (ONNN), and Cypress (CY) made acquisition offers in the past, but Atmel was reluctant to respond. It was Dialog's offer that Atmel finally accepted. What made Atmel such an attractive acquisition target?
Article continues below advertisement
Move to IoT is driving consolidation 
The slowdown in the shipment of personal computers has shifted the attention of big semiconductor companies towards storage and IoT (Internet of Things). Innovating new technologies is costly and time-consuming. Thus, semiconductor giants look to acquire chip makers with broad portfolios of products serving the IoT space. One such company was Intel, who acquired Altera and Lantiq to expand its IoT offerings.
R&D efforts
Atmel has a huge R&D (research and development) expense and this expense is justified by its broad portfolio of advanced connected solutions for a diverse customer base. As the above graph shows, the company's revenue has been increasing with every innovation.
Atmel's product portfolio 
MCUs (microcontrollers): These are computer-on-chips designed to optimize system control, connectivity, user interface management, and low power. They are used in virtually any device.
Touch Solutions: Atmel maXTouch touchscreen controller enables any touch interface to identify, qualify, and track the user's contacts while ignoring unintended touches. When integrated with Atmel's ARM and AVR MCUs, it delivers enhanced performance.
Automotive: Atmel provides a range of MCUs and touch sensors designed for cars. Its devices are used in battery management, car access systems, local interconnect networking systems, and controller area network.
Wireless connectivity: Atmel's Smart ARM Cortex-M-based MCUs are used in Bluetooth devices. Its ICs (integrated circuits) bring Wi-Fi capability in embedded systems, infrared remote control receiver modules in consumer electronics, and RF (radio frequency) in industrial and consumer applications.
Smart energy: Atmel's range of ICs for smart power meters are used for metering, powerline communications, and wireless communications.
Memory: Atmel offers a range of nonvolatile EEPROM (erasable programmable read only memory) products in which memory can be erased for reuse. They store data even when power is removed.
Security ICs: Atmel's ICs enable hardware authentication in tablets, embedded devices, RF, and memory devices.
The iShares Core S&P Mid-Cap ETF (IJH) has 0.23% exposure in Atmel.