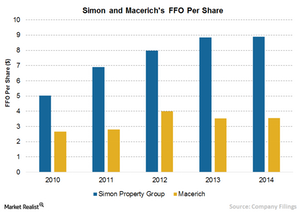 Why Macerich Rejected Simon Property's Acquisition Offer
By Peter Barnes

Oct. 19 2015, Updated 11:08 a.m. ET
Background
Simon Property Group (SPG), the largest retail REIT (real estate investment trust) company in the US, was keen to acquire Macerich (MAC), the third-largest mall owner in the country. In November 2014, Simon disclosed its 3.6% stake in Macerich—the first signal of Simon's intention to acquire Macerich. This disclosure led to Macerich's share price rising from $65.2 on October 16, 2014, to a peak of $94.9 on March 16, 2015.
The combined company would have had a dominant presence in the booming high-end retail real estate market. On the other hand, retailers raised concerns that Simon Properties would gain tremendous control over the nation's shopping mall industry if it succeeded in acquiring Macerich.
Article continues below advertisement
What was the deal?
In March 2015, Simon Property offered to pay $95.50 per share in cash and shares—valuing the company at $23.2 billion, including $6.4 billion in debt—to acquire Macerich. Previously, Simon Property had offered to pay $91 a share, which was flatly rejected by Macerich. In order to allay antitrust concerns, Simon Property further said that it would divest certain Macerich malls to General Growth Properties (GGP), the second-largest mall owner in the country.
Macerich's response
Macerich was not interested in the March 2015 offer, and it subsequently adopted measures to make a takeover difficult for Simon Property—initiatives that included a shareholder rights plan, or what is called a "poison pill," which allows shareholders to buy shares at a discount, thus diluting a potential acquirer's stake. Macerich also staggered its board of directors so that only a minority of seats could open up each year.
Article continues below advertisement
When Macerich rejected the final bid from Simon Property, the latter company withdrew its offer. In explanation, Macerich said that the offer of $95.50 per share undervalued the company and its growth prospects. Arthur Coppola, Macerich's chairman and CEO, further explained by stating the following: "Our board believes that continuing to execute our strategic plan will yield substantially more value for our stockholders."
Consolidation to continue
Macerich's consolidation is expected to continue in the retail REIT sector as a lot of opportunities are still available in the market for major REITs. CBL & Associates Properties (CBL) and Taubman Centers (TCO) are among some of the more attractive acquisition candidates, based on the quality of their malls and their smaller balance sheet sizes.
Macerich (MAC) makes up 1.08% of the total holdings of the SPDR DJ Wilshire Global Real Estate ETF (RWO).
In the next part of this series, we'll dive into Macerich's key operating metrics.