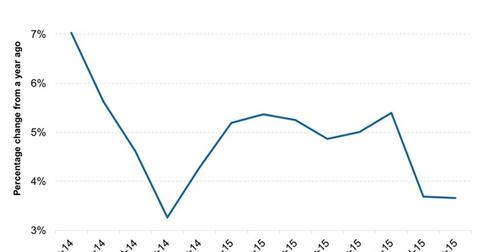 Low Consumer Price Index Inflation Influenced India's Rate Cut
By David Ashworth

Updated
India's consumer price index
The Reserve Bank of India (or RBI) refers to the consumer price inflation (or CPI) when it talks about inflation. However, it does keep an eye out for the wholesale price index (or WPI) as well. To learn more about these measures of inflation, please refer to India's different inflation measures—WPI versus CPI.
India's consumer price index (or CPI) had fallen to 3.3% in November 2014. This was because India was among the biggest beneficiaries of the fall in crude oil prices. The decline in crude prices hammered energy sector stocks (KMI) (COP) (CVX) and mutual funds like the JHancock Disciplined Value A (JVLAX) and the American Century Equity Income A (TWEAX). The waning of the base effect, or a high base keeping the rise in the index low, was responsible for the subsequent increase in CPI. Since the CPI rate was below the RBI's target of 6.0% by January 2016, India's central bank took rate action in September.
Article continues below advertisement
The primary driver
According to its latest reading, India's CPI fell to 3.66% in August compared to 3.69% in July, which was revised down from an earlier reading of 3.78%. Stability in food prices was the primary driver for the decreased growth pace in India's consumer price index.
The RBI noted in its September statement that even with a deficient monsoon, food prices have remained under control, thus ensuring that overall consumer price index inflation remains under check. The RBI stated that "The disinflation has been broad-based and inflation excluding food and fuel has also come off its recent peak in June."
Though inflation is under control as of now, by no means does that alone guarantee a low level of inflation going forward.
In the next article, we'll explore the RBI's take on the future path of consumer price index inflation.