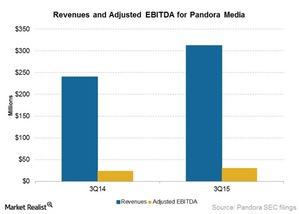 A Look at Pandora Media's 3Q15 Earnings
Revenues fall short of estimates
On October 22, 2015, Pandora Media (P) announced its 3Q15 earnings with revenues of $311.6 million, a growth of 30% from 3Q14. The company's revenues fell short of consensus Wall Street analysts' estimates by ~$1.4 million. Wall Street consensus analysts' estimates of revenues in 3Q15 were ~$313 million.
The company reported a net loss of $85.9 million and an LPS (loss per share) of $0.40. However, as the chart below indicates, the company's adjusted EBITDA (earnings before interest, taxes, depreciation, and amortization) was $30.6 million, a rise of 27% over 3Q14. The adjusted EBITDA measure for Pandora Media also excludes one-time cumulative charges relating to content costs from cost of revenues. It also excludes $28.8 million in stock-based compensation expenses in 3Q15.
Pandora Media had a non-GAAP (generally accepted accounting principle) net income of $22.9 million in 3Q15 and a non-GAAP diluted EPS of $0.10. This net income excludes one-time charges related to the company's legal settlement with record companies and a change in the company's licensing strategy.
We will discuss the legal settlement and the changes in licensing strategy in detail later in this series.
Article continues below advertisement
According to Pandora's internal estimates, the company's share of radio listeners all over the US over a 28-day average was 9.5% by the end of September 2015, up from ~9.1% at the same time last year. The company's listening hours were up by 25% over the same quarter last year and were 5.14 billion in 3Q15.
Growth in active users and listening hours despite Apple Music
On June 30, Apple (AAPL) had launched Apple Music with a three-month free trial to entice new users. In its 2Q15 earnings call, Pandora Media stated that it expected an impact on its audience growth in the short term as its listeners tried out Apple Music. Accordingly, Pandora's active listeners declined slightly quarter-over-quarter in 3Q15, from 79.4 million in 3Q14 to 78.1 million in 3Q15.
In comparison, Tim Cook, CEO of Apple, stated at the Wall Street Journal technology conference on October 20, 2015, that Apple Music has 6.5 million paid subscribers and 8.5 million users who were trying out Apple Music on the three-month free trial.
On the other hand, Spotify has 75 million active listeners, with 20 million subscribers. This indicates that Pandora is still ahead of its competitors regarding active listeners.
You can get diversified exposure to Apple by investing in the PowerShares QQQ Trust Series 1 ETF (QQQ), which holds 13.2% of the stock. QQQ also holds 4.56% of Facebook (FB) and 5.59% of Amazon (AMZN).