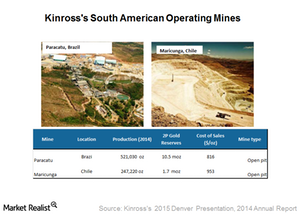 Why Are Kinross Gold's South America Operations High-Cost?
By Anuradha Garg

Updated
Paracatu mine, Brazil
The Paracatu mine is a large-scale open-pit operation located in the Minas Gerais region of Brazil. It is among one of the largest gold operations in the world and has an annual throughput of ~60 million tons.
Operations at the mine include conventional shovel/truck open pit mining. Paracatu's Plant II expansion commenced production in 2008. Additional Plant II expansions were carried out to increase grinding capacity and recovery, including the installation of a third ball mill and flash flotation. An increase in processing capacity was provided with the completion of a fourth ball in September 2012.
Paracatu has relatively long mine life. The mining operations are expected to conclude in 2030, with the mill processing stockpiled ore until 2032.
Article continues below advertisement
Maricunga, Chile
The Maricunga open-pit mine is located in the Maricunga mining district in central-east Chile. Kinross Gold (KGC) did not own 50% of this mine until 2007, and it acquired the mine through the acquisition of Bema Gold Corporation. It is a three-stage crushing and heap leach operation with a name plate capacity of 40,000 tons of ore per day.
It is a relatively high-cost operation with cash costs for 2014 of $953 per ton as compared to an average cost of $719 per ton for the entire company. A new team has been set up that will focus on improving operating efficiencies and reducing costs.
La Coipa, Chile
La Coipa is located in the Atacama region of northern Chile. Kinross acquired the 50% of La Coipa it did not already own from Goldcorp Inc. (GG) in 2007. Mining was suspended in 4Q13, though Kinross expects to complete a pre-feasibility study regarding the potential re-opening of the operation, at improved economics.
Kinross's South America operations are higher cost relative to the rest of its operations, mainly due to lower grades. Newmont's South America production is also declining due to the processing of lower-grade material from the maturing Yanacocha mine. Many of other miners (GDX), including Goldcorp (GG) and Barrick Gold (ABX), are also facing issues of lower grades at several mines, which reduces profitability. Newmont forms 6.40% of its holdings.
The SPDR Gold Shares ETF (GLD) is a gold-backed ETF that provides exposure to spot gold.