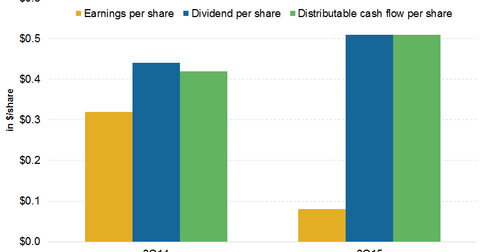 Kinder Morgan 3Q15 Earnings Release: Key Highlights for Investors
By Kurt Gallon

Updated
Kinder Morgan's revenue
Kinder Morgan (KMI) reported its 3Q15 earnings on October 21, 2015. Its 3Q15 revenue fell to $3.7 billion from $4.3 billion in the third quarter of the previous year, a YoY (year-over-year) fall of ~13.6%. The fall in revenue was mainly due to lower commodity prices affecting some of Kinder Morgan's businesses.
Article continues below advertisement
Kinder Morgan's operating income
The fall in Kinder Morgan's 3Q15 revenue was slightly offset by a fall in the cost of goods sold. However, the company's 3Q15 operating income still fell versus 3Q14, mainly due to an increase in its DD&A (depreciation, depletion, and amortization) and G&A (general and administrative) expenses.
Kinder Morgan's earnings per share
Kinder Morgan's 3Q15 actual earnings per share fell to $0.08 from $0.32 in 3Q14. This fall in net income was driven mainly by lower operating income and higher interest expense. The company's interest expense has continued to increase due to its huge outstanding debt of ~42.5 billion. We'll discuss Kinder Morgan's current leverage position in a later article.
Article continues below advertisement
Kinder Morgan's dividends
Kinder Morgan declared a dividend per share of $0.51 for 3Q15. This represents a ~16.0% YoY (year-over-year) increase versus 3Q14, and a ~4.1% sequential increase over 2Q15.
Dividend per share is driven by growth in distributable cash flows.The company's distributable cash flow per share for 3Q15 was $0.51 compared to $0.42 during the third quarter of 2014.
Kinder Morgan had a flat coverage for 3Q15 as dividends equaled distributable cash flows. For the first nine months, distributable cash flow per share was $1.58 compared to $1.29 for the same period last year.
Kinder Morgan's peers Enterprise Products Partners (EPD), Oneok Partners (OKS) and Spectra Energy Partners (SEP) are yet to release their 3Q15 earnings. According to street estimates, Enterprise's, Oneok's, and Spectra Energy's 3Q15 distributions are expected to grow 11%, 2%, and 15% YoY, respectively. Kinder Morgan constitutes ~0.53% of the iShares Russell 1000 Value ETF (IWD).
Further in the series, we'll look at Kinder Morgan's actual performance versus analysts' estimates, individual segment contributions to 3Q15 operating performance, project backlog, divided guidance, and analysts' recommendations.