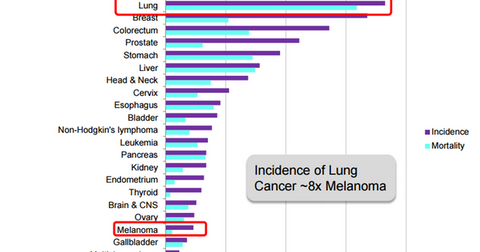 The FDA Approved Merck's Drug Keytruda for Lung Cancer Treatment
By Margaret Patrick

Oct. 8 2015, Published 9:13 a.m. ET
Keytruda FDA approval
On October 2, 2015, the U.S. Food and Drug Administration (or FDA) approved Merck's (MRK) Keytruda (pembrolizumab) to treat patients suffering with advanced non-small cell lung cancer (or NSCLC). However, this approval is limited to those patients for whom the cancer has continued to progress despite other NSCLC treatments.
Additionally, tumors in the targeted patients should express a certain protein called PD-L1, which is detected using a diagnostic PD-L1 IHC 22C3 pharmDx test.
The above diagram shows that lung cancer has the highest global incidence and worst mortality from among the different types of cancers. According to National Cancer Institute estimates, there will be 221,000 newly diagnosed patients and 158,000 deaths due to lung cancer this year.
The majority of lung cancer patients suffer from NSCLC. Keytruda was originally approved for treating melanoma, a type of skin cancer. The diagram also shows that the global incidence of lung cancer is eight times that of melanoma, indicating the scale of opportunity available for Keytruda.
Article continues below advertisement
Keytruda
Merck's Keytruda and Bristol-Myers Squibb's (BMY) Opdivo belong to the new class of cancer drugs called programmed T cell death 1 (or PD-1) inhibitors. Additionally, Sanofi (SNY) and Regeneron (REGN) are developing a new PD-1 inhibitor cancer therapy called REGN2810, which is currently in Phase 1 of the clinical trial process.
In a normal case, the protein PD-1 is used to suppress activity of the T cells, which are responsible for the body's immunity. This protects the body from autoimmune diseases where the body's immune system attacks normal cells.
However, some cancerous tumors cause PD-1 to be over-activated, which in turn suppresses the required T cell activity for destroying the tumor. PD-1 inhibitors work by targeting this pathway and preventing PD-1 from suppressing the body's immune activity.
You can get exposure to Merck's new PD-1 inhibitor drug, Keytruda, and its expanded label for NSCLC, yet avoid taking excessive company-specific risks, by investing in the Health Care Select Sector SPDR ETF (XLV). Merck accounts for 5.9% of the ETF's total holdings.