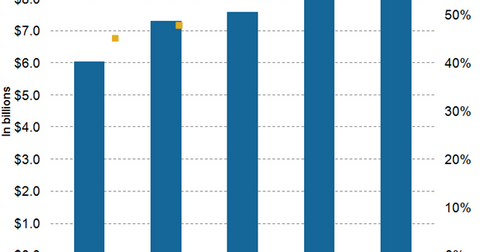 Key Takeaways from Gilead Sciences' 3Q15 Earnings Results
By Margaret Patrick

Updated
3Q15 earnings
In its 3Q15 earnings report released on October 27, 2015, Gilead Sciences (GILD) reported year-over-year (or YoY) revenue growth of around 35.7% from $6.0 billion in 3Q14 to $8.2 billion in 3Q15. In 3Q15, the company reported diluted earnings per share (or EPS) of $3.22 and managed to beat Wall Street analysts' estimated EPS of $2.87.
In 3Q15, Gilead Sciences' total revenues also exceeded Wall Street's estimated revenues of $7.9 billion by about 4.2%. The company has managed to report a net profit margin of 55.4% in 3Q15, about 10.2% higher than that recorded in 3Q14. Gilead Sciences' profit margin in 3Q15 has exceeded Wall Street analysts' projections by about 0.8% as well as that reported by peers such as Biogen (BIIB) and Amgen (AMGN) of about 34.1% and 36.4%, respectively. Wall Street has also projected that in 3Q15, Celgene (CELG) will earn lower net profit margin than Gilead Sciences, which will be about 42.4%.
Article continues below advertisement
Geographic performance
Gilead Sciences witnessed strong product sales in the US markets amounting to $5.6 billion, which is a YoY increase of 33% from the $4.2 billion earned in 3Q14. The company's sales in the US benefited from increased drug purchases by the Department of Veteran Affairs (or VA) after congress's allocation of an additional $500 million for hepatitis C (or HCV) therapy.
In 3Q15, Gilead Sciences' product revenues from European markets reached $1.7 billion, which is an increase of about 17% as compared to the revenues earned in 3Q14. Gilead Sciences recorded revenues worth $958 million in markets in the rest of the world including Japan. The commercial success of the company's HCV drugs, Harvoni and Sovaldi, in international markets coupled with rising uptake of the single-tablet HIV regimen have been the major drivers of Gilead Sciences' strong revenue growth in 3Q15.
After its 3Q15 earnings release, Gilead Sciences' share price rose by 2.1% as compared to its price on October 26, 2015. To read a complete overview of Gilead Sciences, please read A Must-Read Company Overview of Gilead Sciences.
Instead of directly investing in Gilead Sciences and being exposed to excessive company-specific risks, you can invest in the company through the iShares Nasdaq Biotechnology ETF (IBB). Gilead Sciences accounts for 8.5% of IBB's total holdings.