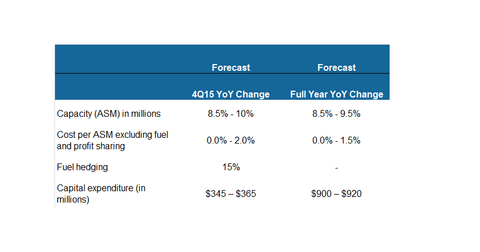 What Does JetBlue Airways Expect for 4Q15, 2015, and 2016?
By Ally Schmidt

Updated
Capacity growth expectations
For the fourth and the last quarter of the year, JetBlue Airways Corporation (JBLU) expects to grow its capacity between 8.5% and 10.5%. The airline expects to accept delivery of four A321s during the quarter.
The full-year capacity guidance for JetBlue has risen from 7%–9% to 8.5%–9.5%. This change is driven by better-than-expected completion factors as well as higher utilization of the airline's Mint fleet. For 2016, the airline expects capacity to grow by a high single-digit percentage.
Article continues below advertisement
This contrasts with the industry, as most players have maintained or decreased their capacity guidance amid investor fears of overcapacity. JBLU has proven that it can grow its capacity profitability though all other airlines failed to do so. Management indicated that it should be on track for the next quarter. In this scenario, capacity growth should add to JBLU's revenue and profits.
Revenue outlook
Driven by capacity growth, revenue is expected to rise in high single digits. The airline expects demand to remain strong in the upcoming quarter. Unit revenues, on the other hand, are expected to decline by around 2% for October. November is expected to be better due to Thanksgiving holidays. This would, in turn, compress the holiday period, leading to a softer December.
JBLU also has a multiyear aim of boosting profits by $450 million.
Article continues below advertisement
Costs guidance
For the fourth quarter, JetBlue expects its CASM, excluding fuel and profit sharing, to increase between a 0% and 2%. Also, full-year CASM guidance now stands at stronger respective 0% and 1% increases.
JBLU has one of the lowest costs in the industry, giving it better pricing power. JBLU's CASM for 3Q15 stands at 10.3 cents, compared to Alaska's (ALK) 10.44 cents, Southwest's (LUV) 11.26 cents, American's (AAL) 12.25 cents, United's (UAL) 12.6 cents, and Delta's (DAL) 13.07 cents. At the same time, it has managed to keeps its customers happy, unlike Spirit Airlines (SAVE).
Capital expenditure
The fourth-quarter total capex for JetBlue is expected to be in the range of $345 million to $365 million. For the full year, capex is expected to be between $900 million and $920 million. The non-aircraft capex is expected to come in lower than the previous guidance of $150 million to $200 million.
JBLU forms ~1% of the iShares S&P Mid-Cap 400 Growth ETF (IJK). Next, we wrap up this series by looking at JBLU's valuation compared to peers.