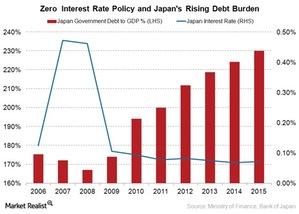 Why Japanese Equity Should Continue to Remain Attractive
By Surbhi Jain

Nov. 5 2015, Updated 10:08 a.m. ET
Factors that make Japanese equity attractive
Below are some key points that help build a strong case for Japanese equity.
Corporate profitability in Japan has been soaring. About 45% of Japanese companies announced dividend hikes in 2014, according to SMBC Nikko. With Prime Minister Shinzo Abe's structural reforms in place, many more should follow with dividend payouts and share buybacks. Both these events lead to a rise in earnings per share, which boosts corporate equity. In Japan, dividends and buybacks have already risen to the highest level in six years, and they're poised to climb further, according to Goldman Sachs (GS).
The adoption of corporate reforms such as corporate governance and stewardship codes should encourage companies in Japan to strive to achieve sustainable growth over the long run through improved governance. The Japan Stock Exchange's Nikkei 400 Index is composed of 400 of Japan's most profitable and shareholder-friendly companies. Constituent companies of the Nikkei-400 need to meet the strict quantitative and qualitative requirements, which ensure that only the most sustainably profitable companies make it to the index. The iShares JPX-Nikkei 400 ETF (JPXN) tracks the index. Companies such as Nippon Telegraph & Telephone (NTT), Honda Motor (HMC), Mitsubishi UFJ Financial (MTU), and Mizuho Financial Group (MFG) are part of the JPXN portfolio. These companies command a 1.6%, 1.6%, 1.4%, and 1.5% allocation, respectively, in the fund's portfolio.
As discussed at length in the previous part of this series, Japanese equities continue to be the cheapest in the developed world (EFA) and are the preferred choice of foreign investors. In fact, foreign investors dominate Japanese stock market trading, with about 60% share of the total volume traded on the Tokyo Stock Exchange.
Article continues below advertisement
Risks of investing in Japan
Investors should be wary, however, when investing in Japanese equity, as certain risks remain.
A loss of momentum of Abenomics could reverse strong positive trends in the economy.
Any rise in Japanese government bond rates could lead to a fiscal crisis in the economy. Japan's debt load stands at more than 230% of its GDP (gross domestic product), the highest among the G7 nations.
Likewise, you never know when currency movements will reverse. The Japanese yen and the European euro have been depreciating for some time now, benefiting their respective economies and lending relative value to their equity. However, with any trend reversal in these currencies, you may not see returns spanning out as expected. In the next part, we'll look at funds that help hedge against exposure to such currency risk.