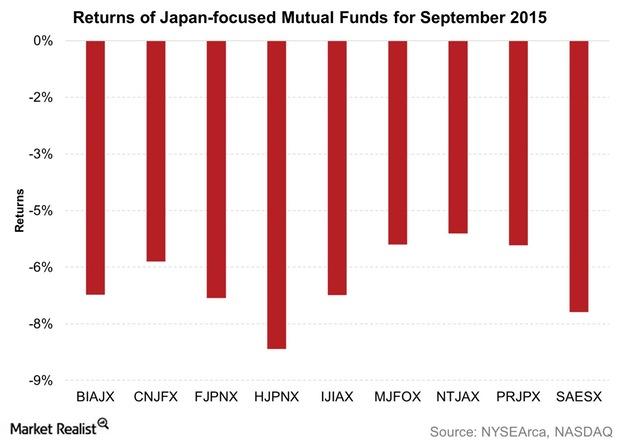 Japanese Economic Indicators: What to Expect in Fiscal 2015
By David Ashworth

Oct. 23 2015, Updated 4:01 p.m. ET
Japanese economic indicators
Japan's economy contracted by 1.2% in the quarter that ended in June 2015. This, though, turned out to be positive news as the economy had been earlier estimated to have contracted by 1.6% in the period. Still, the report was not without its warning bells. Capital spending fell 0.9% from one quarter earlier—much higher than the 0.1% drop estimated in the earlier reading.
The Japanese economy has been a beneficiary of the decline in crude oil prices, which has been distressing news to oil companies like Kinder Morgan (KMI), ConocoPhillips (COP), and Chevron Corporation (CVX). Further, a fall in the Japanese yen has provided a boost to exports and helped Japanese corporations post record profits. However, as seen from above, capital spending has fallen. Along with subdued incomes, this has hurt hopes that businesses will set into motion a cycle of higher spending, by increasing wages.
The Economy Watchers Survey results showed that the diffusion index for current economic conditions fell by 1.8 points to 47.5 in September 2015 from one month previously. However, the index for future economic conditions rose by 0.9 points to 49.1 in September from the previous month.
Article continues below advertisement
Consumer sentiment, prices, and exports
Japanese consumers are not in a good mood either. The Consumer Confidence Index released by Japan's Economic and Social Research Institute fell to 40.6 in September 2015—down 1.1 points from the previous month. Meanwhile, consumer prices were up by 0.2% in August from the previous year. Excluding food and energy prices, prices were up by 0.8% in the month.
Even though a fall in the Japanese yen has boosted export values, a fall in demand from China has throttled further growth in Japan's exports. Though Japan's trade deficit narrowed to 114.5 billion yen in September, exports rose only 0.6% from one year previously, with exports to China falling by 3.5% from the previous year.
Why it matters for mutual fund investors
As we can see from the graph above, Japan-focused mutual funds (IJIAX) (HJPNX) did not fare well in September 2015.
In this series, we'll aim to break down the portfolio holdings of nine such funds in order to see how they've fared across comparable periods and why so. In the final part of the series, we draw a composite picture for all who are either invested or are thinking about investing in Japan via the mutual fund route.
We'll begin our analysis in the next part of this series with the Brown Advisory-WMC Japan Alpha Opportunities Fund (BIAJX).