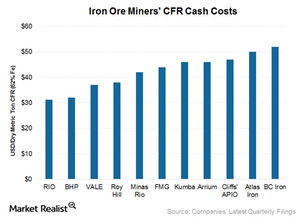 How Are Iron Ore Miners Placed on the Cost Curve?
By Anuradha Garg

Updated
Further cost reductions
BHP Billiton (BHP) (BBL) stated that it is trying to bring its cash costs down to $15 per ton in fiscal 2016 from $19 in fiscal 2015. On the other hand, Rio Tinto's (RIO) cash costs are down 21% year-over-year (or YoY) to $16.20 per ton in 1H15.
Fortescue Metals Group's (FSUGY) C1 cash costs were down 35% YoY in 2Q15 to $22.20 per ton. However, the company indicated that costs in June were still lower at $19 per ton and guided for still lower costs of $18 per ton for fiscal 2016.
Vale SA's (VALE) cash costs also declined by 24% YoY to $15.80 in 2Q15. When the S11D project comes online, its costs should decrease further, as 90 million tons of incremental production should have cash costs of $11 per ton.
Other miners are also guiding for lower costs going forward. The above chart shows the cash costs for iron ore miners per dry metric ton delivered price to China on a 62% iron ore content-based adjustment, based on their latest reports.
Article continues below advertisement
What is aiding lower costs?
Weaker domestic producer currencies and lower oil prices (USO) have helped miners, especially in Australia and Brazil, to continue to lower their costs.  The Australian dollar and the Brazilian real have declined by 13.4% and 31.3%, respectively, since the start of the year.
Who are the marginal producers?
Combined, the first six lowest-cost producers produce close to 1.1 billion tons of iron ore. We have assumed full production for Roy Hill at 55 million tons. Assuming all of it is exported, it forms close to 82% of the globally traded iron ore.
When Vale's S11D project starts in full force, this proportion will still increase. So, practically all of the iron ore miners producing above Fortescue's costs do face a danger of becoming marginal producers. These producers include Arrium, BC Iron, and Atlas Iron.
More downside
We would also like to note here that because producer currencies are under pressure and miners are doing everything they can to further reduce costs, there could be a downside to the marginal support price for iron ore from here.
However, based on this analysis, iron ore prices should find medium-term support at prices ranging from $42–$45 per ton.
As there is still more low-cost supply ready to come online, the biggest such project being Vale's low-cost S11D, there is a risk of some big iron ore miner becoming a marginal producer going forward. This could happen as supply hits the market with less appetite than before. This is particularly true of China, the world's largest seaborne iron ore consumer.