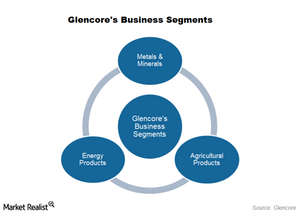 An Investor's Guide to Glencore's Key Operations
By Mohit Oberoi, CFA

Oct. 20 2015, Updated 11:07 a.m. ET
Glencore's key operations
Article continues below advertisement
Reporting segments
Glencore has three business segments. We'll analyze these segments in the next part of this series:
metals and minerals
energy products
agricultural products
Geographical breakup
Australasia: Glencore has operated in this region for over 15 years and currently has a workforce of around 21,000 employees and contractors. Mining companies, including Rio Tinto (RIO) and BHP Billiton (BHP), also have significant mining operations in this region.
South Africa: the company began marketing activities in South Africa in 1974 and started mining operations in 1998. It's among the biggest employers in the country and currently has a workforce of around 35,000 there.
Africa: Glencore has copper and energy operations in Africa and employs a workforce of around 39,000 people in the region.
North America: it has a workforce of around 12,000 people in North America. The company's North American operations are primarily involved in nickel, copper, and zinc production.
South America: Glencore's South American operations comprise of copper-related activities in Chile (ECH), Peru, and Argentina. It also has zinc assets in Peru, Bolivia, and Argentina. South America has the highest copper reserves globally. Most copper companies, such as Freeport-McMoRan (FCX), have operations in South America. The company has coal mines as well as agricultural facilities in South America. It has a workforce of around 29,000 employees and contractors in the region.
Europe and the CIS (Commonwealth of Independent States): Glencore employs over 45,000 people in Europe and the CIS . The company has substantial zinc and nickel assets in this region. Glencore also has logistics and agricultural assets in Europe and the CIS.