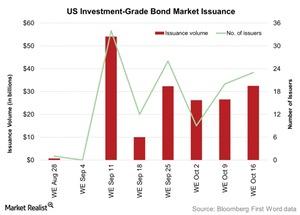 Why Investment-grade corporate bond issuance Surged
By Lynn Noah

Oct. 20 2015, Published 3:29 p.m. ET
Deals and volumes of investment-grade corporate bonds
Investment-grade corporate bonds worth $32.5 billion were issued in the primary market in the week ending October 16, 2015. Investment-grade corporate bond issuance rose 22.4% last week from the previous week. The number of issuers rose to 23 from 20 in the previous week.
Last week, Treasury yields fell across the yield curve. Yields on investment-grade corporate bonds, tending to follow cues from Treasuries, also fell in the week ended October 16. A fall in yields leads to a rise in returns of mutual funds. The weekly returns of the Prudential Total Return Bond Fund Class A (PDBAX) rose by 0.33%.
Article continues below advertisement
Major Issuers
Goldman Sachs (GS), Fidelity National Information Services (FIS), Bank of America (BAC), BHP Billiton Finance—a subsidiary of BHP Billiton Limited (BHP)—and Mizuho Bank Limited—a subsidiary of Mizuho Financial Group (MFG)—were among the biggest issuers of investment-grade bonds in the week ending October 16.
Issuance by quality and maturity
Fixed-rate issues formed 96.9% of the total issuance last week. Floating-rate issues worth $1.0 billion were raised last week.
Looking at the credit ratings of issues, BBB rated issuers were the most prolific. They made up 49.7%, or ~$16.2 billion, of total issuance. They were followed by A rated issuers, forming 47.2% of the week's issuance. AA rated papers formed 3.1% of the total issuance. AAA- rated papers did not see any issuance last week.
In terms of maturity, the largest chunk of issuance, making up 38.5% of all issues, was in the five-year maturity category. It was followed by the ten-year maturity category, commanding 24.8% of the total issuance.
Long-term maturity categories 30-year and >30-year made up 15.4%, and 10.0%, respectively, of the total issuance last week. However, perpetuals did not see any issuance for the third consecutive week.
In the next part of the series, we'll highlight the major deals, including pricing, credit rating, and yields.