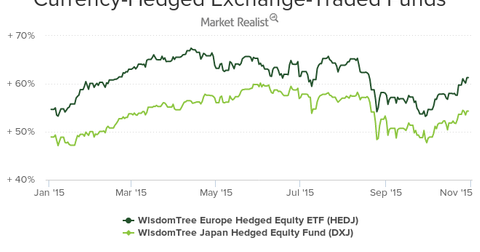 Investing in Europe, Japan: Better to Hedge Than Live on the Edge
By Surbhi Jain

Nov. 3 2015, Updated 8:08 a.m. ET
European and Japanese equities have been rising on depreciating currencies
Europe and Japan have been gaining on the back of monetary stimulus and cheaper currency. However, there remains the downside that there could be a sudden currency trend reversal.
In May this year, David Kostin of Goldman Sachs (GS) said, "Fund managers who also invest overseas should overweight Japan and Europe equities and underweight the US, provided the FX is hedged. Japan and Europe offer the prospect of superior local currency returns vs. the US during the next 12 months. Goldman Sachs strategists forecast TOPIX and Stoxx 600 will rise to 1770 (+11%) and 440 (+11%), respectively."
We've seen both the European stock market and the Japanese stock market rise for most of this year. The European markets have been weighed down by the Greek crisis in July and subsequently China's stock market plunge in August, which also affected the roaring Japanese markets.
However, both these markets have recovered well from August's steep fall. The Europe-tracking SPDR EURO STOXX 50 ETF (FEZ) has risen a solid 9.1% over the past month, while the Japan-tracking iShares MSCI Japan ETF (EWJ) rose 7.7% over the same period.
[marketrealist-chart id=773056]
Article continues below advertisement
Better to hedge than live on the edge
Investing in foreign stocks is like living on the edge of a cliff, supported only by a favorable currency movement. The moment the trend reverses, you may see your returns tumble in a big way. So while investors strive to get higher returns by investing in other countries, they should not forget that the currency exposure of investing in foreign equities can significantly affect an investment's performance. In order to reduce this currency risk and benefit from potential growth opportunities globally, you can use hedged equity currency ETFs.
Currency-hedged ETFs provide exposure to foreign equity. At the same time, they employ derivatives to negate any negative influence of currency swings. The idea is to help investors in the United States generate a return that closely mirrors what an investor domiciled in that foreign country would make on that stock or index.
The WisdomTree Europe Hedged Equity ETF (HEDJ) and the Deutsche X-trackers MSCI Europe Hedged Equity ETF (DBEU) are two ETFs that help reduce the currency risk of investing in Europe. Similarly, the WisdomTree Japan Hedged Equity ETF (DXJ) and the Deutsche X-trackers MSCI Japan Hedged Equity ETF (DBJP) are good options for investors seeking to gain exposure to Japanese equity while protecting their investments from the downside risk of currency fluctuations.
For our detailed analysis of these funds, read Hedged Equity Funds: Must-Knows for Foreign Investment.
Our recent series Currency Observations from a "European Vacation" may also interest you.