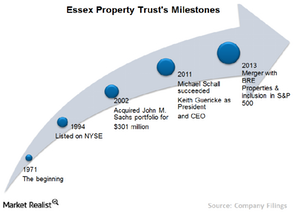 Investing in Essex Property Trust: A Must-Read Company Overview
Brief history
The beginning of Essex Property Trust (ESS) goes back to 1971, when real estate entrepreneur George M. Marcus formed Essex Property Corporation. In 1994, with a portfolio of 16 multifamily communities located on the West Coast, the company made its public debut as Essex Property Trust, Inc. Essex Property Trust is headquartered in Palo Alto, California, and is an S&P 500 company. The company had 1,725 employees as of December 2014.
Article continues below advertisement
Business interest
Essex Property Trust operates as a self-administered and self-managed REIT in the United States. It's a fully integrated REIT that acquires, develops, redevelops, and manages multifamily apartment communities located in highly desirable, supply-constrained markets. The company's portfolio is concentrated in select coastal sub-markets along the West Coast, including Southern California, Northern California, and the Seattle metropolitan area.
Competitors
Essex Property Trust is one of the largest apartment REIT companies in the United States with a market capitalization of $14.4 billion. The company competes with a number of other apartment REITs in the United States for rental properties. In addition, competition also comes from other forms of rental properties and single-family housing, providing alternatives to potential residents of multifamily properties. On the other hand, apartment REITs also face competition from residents' decision of owning a home or renting an apartment. When home prices are high, renting becomes more attractive and vice versa.
Article continues below advertisement
Major competitors of Essex Property Trust in the apartment REIT space include Virginia-based AvalonBay Communities (AVB), Chicago-based Equity Residential (EQR), Colorado-based UDR (UDR), Texas-based Camden Property Trust (CPT), Colorado-based Apartment Investment & Management Company (AIV), and Tennessee-based Mid-America Apartment Communities (MAA). The iShares Cohen & Steers REIT ETF (ICF) invests 3.65% of its portfolio in Essex Property Trust.
Series Content
Investing in Essex Property Trust: A Must-Know Company Overview
What Are Essex Property Trust's Key Business Segments?
How Has Essex Property Trust Developed its Portfolio?
Why Essex Property Trust Concentrates Its Portfolio on the West Coast
Why Did Essex Property Trust Merge with BRE Properties?
How Essex Property Trust Benefited from Portfolio Restructuring
Essex Property Trust's Development and Redevelopment Projects
How Essex Property Trust Plans to Increase Shareholder Returns
Why Essex Property Trust Reported Robust Revenue Growth
Breakdown of Essex Property Trust's Cost Structure
Essex Property Trust Records a Consistent Rise in Funds from Operations
Why Essex Property Trust Offers Steady Dividends to Shareholders
Why Essex Property Trust Has Lowest Debt to Equity among Peers
Why Essex Property Trust Trades at High Price-to-FFO Multiple
Investing in Essex Property Trust through ETFs