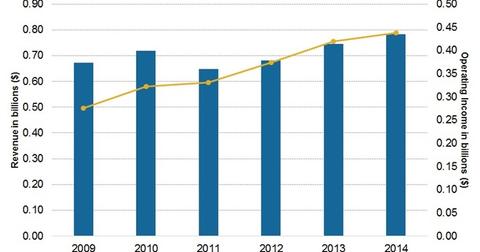 An Insight into Reynolds American's Moist Snuff Product Segment
By Penny Morgan

Updated
Revenue overview
Reynolds American's (RAI) American Snuff Company manufactures and sells smokeless tobacco products in the United States. American Snuff's net revenues increased 5.1% to $0.8 billion in 2014, compared with $0.7 billion in 2013. The increase was primarily due to higher pricing and higher moist snuff shipment volume for Grizzly.
Grizzly's shipment volume increased 3.5% to 434 million cans in 2014, compared with 419 million cans in 2013. The retail (XRT) share of Grizzly increased to 31.4% in 2014, compared with 30.8% in 2013. However, for other moist snuff products the shipment volume decreased 3.5%. American Snuff Company is the second largest operating segment contributing, 9.2% of the total consolidated revenue.
Article continues below advertisement
Operating income
American Snuff's operating income increased 4.3% to $0.44 billion, compared with $0.42 billion in 2013. The increase was primarily due to a higher net pricing of moist snuff products and higher shipment volume, which was offset by MTM (mark-to-market) adjustments. Total American Snuff moist shipment volume increased 2.8% to 479 million cans. Also, the retail share of American Snuff's moist snuff increased 0.3 share points to 34.3% in 2014.
Other companies like Altria Group (MO), Japan Tobacco International (JAPAF), and Imperial Tobacco Group (ITYBY) have a presence in the smokeless tobacco products market. Marlboro Snus (MO), Skruf Snus (JAPAF), and Zerostyle Mint (ITYBY) are some of their smokeless tobacco product brands. To learn more about Altria Group's smokeless product segment, please read A Glimpse at Altria's Smokeless Tobacco Products Segment. British American Tobacco (BTI) and Philip Morris International (PM) don't have a presence in smokeless tobacco products.
Focus on moist snuff pouches
The US moist snuff industry retail shipment volume grew 2% in 2014 compared to 2013. American Snuff Company is planning to focus on market share and profits from its Grizzly branded products through branding and promotions. American Snuff also offers Grizzly pouches that provide pre-measured portions and are more convenient than traditional moist snuff.