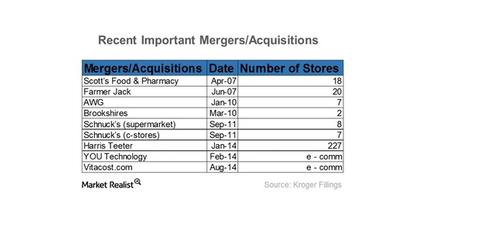 Inorganic Growth: A Game Changer for Kroger
By Sonya Bells

Nov. 5 2015, Updated 7:06 a.m. ET
Inorganic growth at Kroger
Expansion through the inorganic route has played a significant role in Kroger's (KR) growth over the years. The company's strategy for its mergers and acquisitions has been focused on its existing markets in order to obtain higher incremental returns with little additional investment on advertising and distribution.
Kroger had its first significant merger with Dillon Companies in 1983, which made the company a coast-to-coast operator of food, drug, and convenience stores. In 1999, the company acquired Fred Meyer and created a supermarket chain with a broad geographic coverage. The merger resulted in huge economies of scale in purchasing, manufacturing, information systems, and logistics for Kroger.
Article continues below advertisement
Recent mergers in the online space
Another important merger in recent Kroger history was in fiscal 2015 when the company merged with Harris Teeter, a regional chain of more than 200 stores. This allowed Kroger to expand into the Southeastern and Mid-Atlantic markets, including Washington, D.C. Along with its geographic expansion, Harris Teeter also brought with it click-and-collect model expertise, which should fast-track Kroger's growth in the online segment.
Kroger also had two mergers in the pure e-commerce space in fiscal 2015 in order to accelerate its entry in the fast-growing e-commerce industry. One of the mergers was with Vitacost.com, a leading online retailer in the nutrition and healthy living market.
The other important merger in the technology space was with You Technology, a leader in digital coupons and promotions. The company is now well-equipped to complete with the online platforms of Walmart Stores Inc. (WMT), Whole Foods Market Inc. (WFM), and AmazonFresh of Amazon.com Inc. (AMZN). We will discuss the online grocery segment in more detail in Part 8 of this series
Article continues below advertisement
Recent mergers in the retail space
In order to seize the opportunity of the growing in-store retail clinics, Kroger acquired The Little Clinic in 2010. In 2012, Kroger further expanded its presence in the pharmacy segment by acquiring Axium Healthcare Pharmacy. We'll explore these acquisitions in Part 7 of this series.