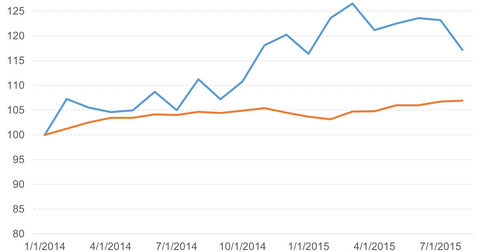 How Important Are Retail Sales to the US Economy?
By Mark Jonker

Updated
Retail sales—major part of US GDP
In a consumer-driven economy like that of the United States, the retail sector plays a very important part in the growth of the economy. Two-thirds of the country's GDP comes from PCE (personal consumption expenditure), where retail sales play a significant role. Hence, retail sales serve as an important indicator not only for the retail sector but also for the future of the US economy. The correlation of retail sales to the SPDR S&P Retail ETF (XRT), which can be considered a proxy for the US retail sector, has been 0.66 since 2014. This high level suggests that for every 1% move in retail sales the retail sector moves 0.66% in the same direction, as seen in the graph below.
Article continues below advertisement
About XRT ETF
The SPDR S&P Retail ETF (XRT) has exposure to 100 US retail stocks. Its correlation to the S&P 500 (SPX) broad market index is highly positive. Some of the stocks to which XRT has exposure are Netflix (NFLX)—1.3%, Amazon (AMZN)—1.2%, Kroger (KR)—1.1%, and Dollar Tree (DLTR)—1.1%.
In the next articles, we'll look at how US retail inventories are shaping up.