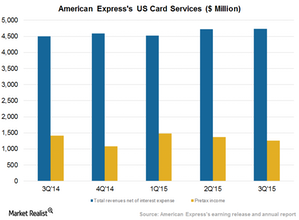 Spending and Partnerships Impact American Express's US Business
By Robert Karr

Updated
US Card Services
American Express's (AXP) US Card Services' total revenues net of interest expense increased by 5% to $4.7 billion in 3Q15, forming 57% of the company's total revenues, as compared to $4.5 billion in 3Q14. The expansion was mainly due to higher net interest income from growth in the loan portfolio and an increase in card member spending.
However, the division's net income fell by 11% to $794 million as compared to $889 million in the prior year's quarter. The division's profitability fell due to higher provisions, increased spending on growth initiatives, marketing spending, higher rewards, and service costs.
Provision for losses increased by 23% to $390 million from $316 million a year ago. The increase was due to an addition to reserves in 3Q15 as compared to the release of reserves in 3Q14.
Article continues below advertisement
Spending on initiatives post-Costco
US Card Services' total expenses increased by 11% to $3.1 billion as compared to $2.8 billion a year ago. American Express's co-branding and merchant acceptance agreements with Costco weren't renewed in February 2015.
A co-branded credit card is jointly sponsored by a bank and a retail merchant. This type of card can generally be issued more cheaply than private label retail cards. The US Costco co-branded accounts generated ~8% of the company's worldwide billed business in the year ended December 31, 2014. These co-branded accounts were responsible for ~20% of American Express's worldwide card loans.
American Express has increased spending in order to rake up new partnerships. The company has been successful in striking partnerships with Charles Schwab (SCHW), one of biggest brokers in the United States, and Sam's Club, the eighth-largest retailer in the United States.
The company's expenses also widened due to spending on technology development, marketing and promotion, and higher service costs due to new partnerships.
American Express achieved total revenue of $35.9 billion in the last fiscal year. Here's how some of American Express's peers in the payment processing industry fared with their revenues in the last fiscal year:
Together, these companies account for 1.9% of the iShares Core S&P 500 ETF (IVV).