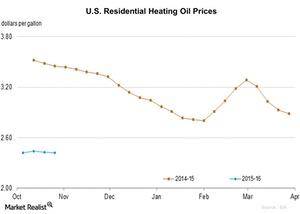 What Impact Has Crude Oil Had on Heating Oil Prices?
By Manu Milan

Updated
Heating oil prices
In its Weekly Petroleum Status Report released on October 28, 2015, the EIA (U.S. Energy Information Administration) stated that heating oil prices are $2.42 per gallon for the week ending October 26, 2015. Heating oil prices have been almost flat for the past four weeks.
East Coast residential heating oil prices fell slightly by $0.07 per gallon, settling at $2.42 per gallon on October 26, 2015. Midwest heating oil prices also fell by $0.98 per gallon, settling at $2.27 per gallon on October 26, 2015.
Article continues below advertisement
Overview of heating oil
Heating oil is a distillate fuel utilized for household heating and as part of modern burner units within a moderate limit. Like gasoline and diesel, heating oil demand trends and prices are significant to refineries.
The EIA's Short-Term Energy Outlook reveals that American households heating primarily with heating oil will spend an average of $459 this winter, 25% less than the previous winter, reflecting retail costs that are 47 cents per gallon, or 15%, lower and utilization that is 11% lower.
In the 10%-colder-climate situation, anticipated consumption is $288 lower than the previous winter, with costs that are 39 cents per gallon lower than the previous winter.
Analysis of heating oil prices
Heating oil prices are anticipated to be lower than the previous winter due to the lower estimate of crude oil prices and generally delicate worldwide distillate business.
Brent crude oil prices are estimated to be $50–$55 per barrel this winter, which would be $13–$16 per barrel lower than the previous winter. The worldwide oil business sector continues to encounter an overabundance of supply compared to demand.
In any case, raw petroleum costs are exceedingly questionable, and any deviation in raw petroleum costs from conjecture levels would bring about a comparable deviation in retail heating oil costs and purchaser consumption.
Impact of low heating oil prices
Lower heating oil prices and demand are bearish for refineries, as they must sell their products at lower prices, which negatively impacts revenues of refiners such as Chevron (CVX), Tesoro (TSO) Valero (VLO), Marathon Petroleum (MPC), and Western Refining (WNR).
Tesoro, and Phillips 66 (PSX) make up 9% of the Energy Select Sector SPDR ETF (XLE). Chevron accounts for 11.1% of the Vanguard Energy ETF (VDE).