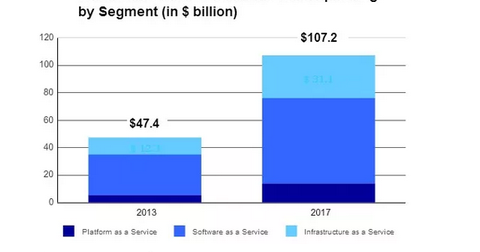 IBM's Bluemix Will Get a Lift with Purchase of StrongLoop
By Anne Shields

Oct. 14 2015, Updated 8:08 p.m. ET
StrongLoop's Node.js will enhance Bluemix by creating a stronger bridge between Java and Node.js
Previously in this series, we took a look at IBM's (IBM) launch of Bluemix Local. Bluemix enables developers to build, deploy, and manage apps (applications) across the cloud space. Since its launch of the Bluemix platform-as-a-service (or PaaS), the company claims it has grown to become the largest cloud foundry deployment in the world.
IBM has put a lot of effort into building Bluemix into an API (application programming interface) delivery, development, and management platform. For example, an app on IBM's Bluemix could potentially translate the data feed from Twitter (TWTR) and normalize the input into English.
On September 10, 2015, IBM announced the acquisition of StrongLoop, a software provider. According to IBM's press release, the acquisition will "help developers connect enterprise applications to mobile, Internet of Things ([or]IoT) and web applications in the cloud."
Article continues below advertisement
With IBM's addition of StrongLoop to its portfolio, developers will get access to Bluemix Garage, through which they could learn to create, manage, and monetize APIs. Apart from Bluemix, Node.js developers will also get access to IBM's data analytics and Watson platforms. So StrongLoop's acquisition will enable IBM to forge stronger links between Node.js and Java.
IBM Bluemix rated best platform-as-a-service
According to Enterprise Strategy Group (or ESG), a research firm, IBM Bluemix is the most used platform-as-a-service (or PaaS) offering among US developers. The same survey found that Bluemix adoption is growing ten times faster than other leading PaaS solution players in the market.
Amazon Web Services and Microsoft Azure are other leading offerings available in this market. Amazon (AMZN) leads the overall cloud space with a 30% market share, followed by Microsoft (MSFT), which holds approximately 10% of the market.
IDC (International Data Corporation) expects public IT cloud services to be worth approximately $107 billion in 2017. In 2013, these services were worth $47.4 billion. After software-as-a-service (or SaaS), PaaS will experience the fastest growth, expanding at a compound annual growth rate of 29.7% between 2013 and 2017.
You can consider investing in the SPDR S&P 500 ETF (SPY) to gain exposure to the technology sector. SPY invests about 18% of its holdings in the technology sector.