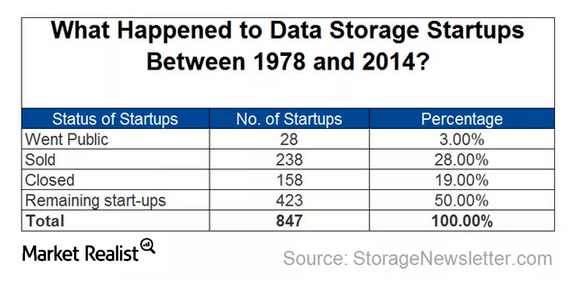 IBM Targets Big Data Space with Cleversafe
By Anne Shields

Oct. 8 2015, Updated 5:03 p.m. ET
IBM aims to leverage Cleversafe to cater to big data
In the prior part of this series, we discussed IBM's (IBM) announcement on October 5, 2015, of its Cleversafe acquisition. Cleversafe was cited as a leader in the IDC MarketScape vendor assessment of object-based storage providers in 2014. IBM hopes that its Cleversafe acquisition will enable its customers to deal with the increasing amount of unstructured multimedia data, including videos, audio files, and photos, which requires a massive amount of storage. IDC expects the object storage market to be worth $28 billion by 2018.
Article continues below advertisement
With the SMAC (social, mobile, analytics, and cloud) revolution, there has been an exponential growth in data that is both structured as well as unstructured, referred to as "big data." IBM cited IDC estimates that approximately 80% of new cloud applications are going to be "big-data intensive," which means that they will need megabytes or petabytes of storage space.
Splunk (SPLK), a machine data analytics software vendor, generates 100% of its revenue from big data. Tableau Software (DATA) is data visualization software company that presents complex data in an easy-to-grasp manner. Other companies operating in the big data space include Attunity, Qlik Technologies (QLIK), and Teradata Corporation (TDC).
Cleversafe's technology expected to see huge growth
IBM stated that Cleversafe "uses unique algorithms to slice data into pieces and reassemble the information from a single copy, rather than simply making multiple copies of the data, which is how storage traditionally has been done. As a result, Cleversafe can store data significantly cheaper and with greater security."
Cleversafe's object storage technology focuses on a document or an image that is stored as a total unit in and of itself, along with the related meta data. This differs from file storage, wherein a given file is split into various pieces, each with their own storage address.
Trends in the data storage space
As we can see in the above table, a total of 847 startups emerged in the data storage space between 1978 and 2014. According to StorageNewsletter, 28% of those startups were acquired and 19% were closed. However, only 3% of those startups were successful in going public. Scality, another leader in the IDC MarketScape assessment, plans its IPO (initial public offering) in 2017, as discussed previously in this series.
Please read A Wave of Startups Has Hit the Data Storage Space to learn more. If you're interested in IBM, you can invest in the Technology Select Sector SPDR ETF (XLK). XLK invests 3.5% of its holdings in IBM.