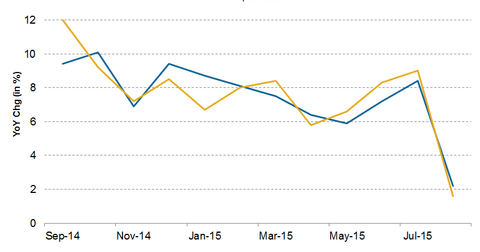 How Was the Hotel Industry's Revenue per Available Room in September?
By Ally Schmidt

Updated
Overview
RevPAR (or Revenue Per Available Room) is a key performance metric used in the hotel industry that indicates the hotel's performance and the demand scenario for the hotel's rooms. The RevPAR is calculated by dividing a hotel's total guest room revenue by the room count and the number of days in the period. It can also be calculated as ADR times occupancy, and thus the metric summarizes both the indicators.
Article continues below advertisement
The prime source of income for hotels is renting rooms, so RevPAR helps us to measure the hotel's ability to generate greater revenue from each room. However, it does not take into account hotels' other revenue sources like add-on services, car services, and special charges that contribute to the revenue stream, nor does it account for the costs of a hotel. Thus, the indicator is not a complete measure in itself.
RevPAR analysis
The above chart shows the percentage change in RevPAR for the US hotel industry in the past year. The indicator saw a fall in the last month due to weaker demand and also due to the change in the holiday schedule for Ramadan. However, for the week ending September 19, the revenue per available room grew by 5.5% to $89.15. For the week ending September 26, it grew by 7.2% to $86.17, indicating that September will be a better month for hotels.
Along with the largest ADR growth, Philadelphia also recorded the most growth of 35.2% in RevPAR to reach $121.61. Minneapolis/St. Paul, Tampa/St. Petersburg, and Denver also recorded more than 15% growth in RevPAR for the week ending September 26. Houston saw the largest decline in RevPAR to $75.5, a fall of 4.9%.
Investors can gain exposure to hotel stocks by investing in the Consumer Discretionary SPDR ETF (XLY), which holds 0.63% in Marriott International (MAR), 0.52% in Starwood Hotels (HOT), and 0.38% in Wyndham Worldwide (WYN). Other major hotel stocks include Hilton Worldwide (HLT) and Hyatt Hotels (H).