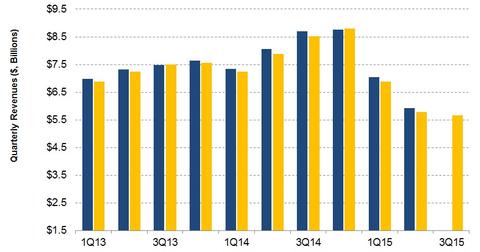 Why Halliburton's 3Q15 Revenue Expectations Are Bearish
By Alex Chamberlin

Updated
Halliburton's quarterly adjusted revenues
We discussed Halliburton's (HAL) market performance earlier in the series. In this article, we'll discuss Halliburton's 3Q15 revenue expectations and compare its revenue performance against analysts' estimates in the past ten quarters.
For 3Q15, analysts' consensus revenue estimate for Halliburton is $5.66 billion. This is 4.3% lower than its 2Q15 revenues, but 35% lower than its 3Q14 revenues. Between 1Q13 and 4Q14, Halliburton's adjusted revenues increased 26%, mostly rising for the seven quarters and falling since. Halliburton's adjusted revenue declined 33% in 2Q15 over 4Q14.
Article continues below advertisement
The crude oil price slump and the resulting upstream capex (capital expenditures) spend cut ended the trend. Upstream companies also pushed for lower rates or renegotiated contracts with oilfield service (or OFS) companies. The worst affected were Halliburton's North America operations due to pricing pressures across all of the company's product lines.
Halliburton's revenues versus estimates
As noted in the graph above, Halliburton's adjusted revenues have exceeded estimates in most quarters in the past. On average, adjusted revenues have outperformed consensus revenues by 1.3% in the past ten quarters. In 2Q15, adjusted revenues exceeded consensus revenues by ~2%.
Let's see how Halliburton stacked against Transocean (RIG), a prominent name in the OFS industry.
In 2Q15, Transocean recorded $1.88 billion in revenues compared to $5.91 billion for Halliburton. Compared to a 35% expected sequential revenue fall for Halliburton in 3Q15 from 3Q14, Transocean's 3Q15 revenue is expected to fall by 31% compared to 3Q14.
Transocean constitutes 0.03% of the SPDR S&P 500 ETF (SPY).
Rigs and crude oil price effect
As discussed in the previous article, the US rig count decline has started to taper off. Crude oil prices, however, continue to stay benign. Also, there has been no sign of upstream companies' intentions to improve exploration and production capex, which is a key driver for OFS companies.
There are not enough positive factors to start driving the OFS industry. If all factors combined start moving upward and stay elevated, OFS companies like Halliburton can see their revenues move north.
We'll discuss Halliburton's earnings in the next part of the series.