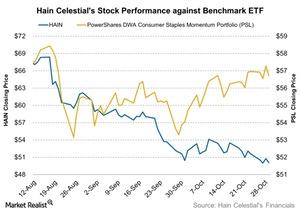 Hain Celestial Group Prepares to Report 1Q16 Results
By Sushree Mohanty

Dec. 4 2020, Updated 10:50 a.m. ET
The Hain Celestial Group
On November 5, 2015, the Hain Celestial Group (HAIN) will report its first quarter results for fiscal 2016. The Hain Celestial Group, headquartered in Lake Success, New York, manufactures, markets, distributes, and sells organic and natural products in the United States, the United Kingdom, Canada, Europe, and India. It is a food company that also focuses on personal care products. Its peers in the industry include The Hershey Company (HSY), Mondelez International (MDLZ), Mead Johnson (MJN). Hershey and Mondelez International both reported their third quarter results on October 28, and Mead Johnson reported on October 22.
Article continues below advertisement
Stock price performance
The company's shares trade on the NASDAQ exchange under the ticker symbol HAIN. Its shares fell by almost 7% to trade at $63.65 following the company's 2015 fourth quarter earnings release on August 18, 2015. The shares were trading in the range of $67–$70 in the month of July, after gaining as much as 20% at one point this year. The decline in price broke this trend, and now the shares are trading below their maintained volatile price range. However, the stock showed better volume with the dip in price than it normally shows in its regular trading.
The Hain Celestial Group issued strong guidance for fiscal 2016 despite the drastic fall in price. The business itself remains strong and is growing quickly. It continues to make smart acquisitions in a very fragmented natural and organic packaged foods industry, having grown sales and EPS (earnings per share) at an enormous rate over the past five years. For the upcoming fiscal year, the company issued earnings guidance between $2.11 and $2.26 per share versus analysts' expectations of $2.19 per share. The company's shares have risen 17% since the beginning of the year and 57% in the last 12 months. It closed at $50.07 on October 29.
Article continues below advertisement
Hershey and Mead Johnson also trade on the NYSE and closed at $88.96 and $82.79, respectively, on October 29. Mondelez International trades on the NASDAQ and closed at $46.28 on October 29. The Power Shares DWA Consumer Staples Momentum Portfolio (PSL) invests 3.6% of its portfolio in HAIN. It closed at $56.73 on October 29. PSL's YTD (year-to-date) return is 11.4%. Hershey, Mead Johnson, and the Hain Celestial Group reported YTD returns of -14.4%,-17.7%, -14.1%, respectively, while Mondelez International reported a positive YTD return of 27.4% on October 29.
Achievements in fiscal 2015
The company has had several accomplishments during fiscal 2015:
It completed three strategic acquisitions: HPPC (Hain Pure Protein Corporation)—Plainville Farms and FreeBird brands; EK Holdings—Empire Kosher Poultry, Kosher, and Kosher Valley brands; and Belvedere International—Live Clean brand.
It introduced more than 200 new innovative products worldwide.
It delivered more than $55 million in worldwide productivity savings.
In addition, the company's net sales in the United States rose 3% YoY (year-over-year) to $332.8 million in the last quarter. Net sales in the United Kingdom fell 7.8% to $184.90 million. Its operations in the Rest of World segment witnessed a 2.7% rise in net sales to $62 million. HPPC reported net sales of $118.5 million.