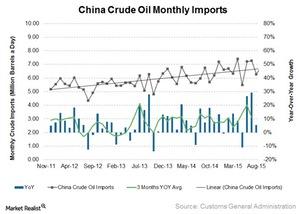 Good News for Tankers—China's Crude Oil Imports Rise
By Sue Goodridge

Updated
China's crude oil imports
In September, China's crude oil imports rose to 28.0 million tons compared to 26.6 million tons in August 2015. That equals 6.8 million bpd (barrels per day)—up 8.6% from the previous month. In a report published in September, we discussed China's August imports and the possibility of higher crude oil imports by China in September.
Article continues below advertisement
Why imports rose
According to analysts at ICIS China, Chinese refineries raised processing rates in September. This means refineries processed higher amounts of crude oil. The processing rate has been highest in the last three months. Refineries may have taken advantage of the fall in crude oil prices. Also, according to Bloomberg, China's commercial crude oil inventories dropped at the end of August, which increased crude oil demand for stockpiling.
Impact on the crude tanker industry
China (FXI) (MCHI) is one of the largest importers of crude oil. In addition to Saudi Arabia, China imports oil from countries around the Atlantic Basin, Russia, and Iran. Transporting crude oil to Asia from the Atlantic Basin involves a longer route, which increases the ton-mile demand. This is why investors should follow China's import data.
Higher crude oil imports benefit crude tanker companies such as Frontline (FRO), Nordic American Tankers (NAT), Teekay Tankers (TNK), Euronav (EURN), DHT Holdings (DHT), and Tsakos Energy Navigation (TNP).
Forward expectations
The rate of stockpiling oil is expected to increase in the fourth quarter. Also, teapot refineries are expected to be more active to fill their new quotas. In the last week of August, China's Ministry of Commerce approved the first crude import licenses for two private refineries. Previously, the country allowed only government-approved refineries to use imported crude oil. With this change, we expect crude oil imports to increase in coming months.