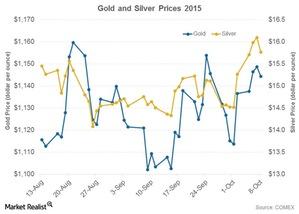 Gold and Silver Retreat as China Books Profit
China back after holiday
As Chinese markets reopened after the Golden Week holidays, gold and silver prices took a fall. Gold fell from near–two-week highs and closed at $1,144.30 per ounce. Silver also slumped almost 2% and touched a low of $15.40 per ounce, giving up the day's high of $16.10 it reached on October 8, 2015.
After returning from a week's holiday, investors from China likely booked their profits on the long exposure in precious metals. The profit-booking resulted in bullion sale, causing metals to fall. Silver fell as much as 3.2% before recovering and closed at $15.80 per ounce.
Article continues below advertisement
DXY also falls
Gold gained as much as $30 per ounce during China's holiday between October 1 and October 7, 2015, while silver gained about $1.50 in the same period. The dollar witnessed a fall on sluggish US job data, falling 0.65% on a five-day trailing basis as of October 8.
The US Dollar Index (or DXY) comprises a basket of currency including the euro, the Japanese yen, the pound sterling, the Swedish krona, and the Swiss franc. DXY saw a fall of 0.12% on October 8 also. US dollar–denominated precious metals, as well as the dollar, saw a down day on Thursday.
Gold's losses were likely capped by a delayed Federal decision on the rate hike. The disappointing data in the past week may push the rate hike to 2016. The option implied volatility for gold, and silver has also been trading low. Gold- and silver-backed ETFs that saw a fall in their prices after bagging a handful of profit days include SPDR Gold Shares (GLD) and iShares Silver Trust (SLV). These two ETFs fell by 0.51% and 2%, respectively.
Precious metals mining companies across the globe also saw their prices dip as gold and silver ended their Golden Week rally. Companies like Iamgold (IAG), Coeur D'Alene Mines (CDE), and Agnico Eagle Mines (AEM) saw declines of 5.6%, 3.9%, and 2.3%, respectively. These three mining companies together constitute 6.4% of the VanEck Vectors Gold Miners ETF (GDX).