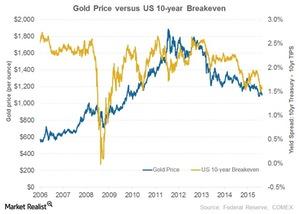 Gold and Gold-Backed ETFs Continue Plunging
By Meera Shawn

Updated
Gold and inflation
For gold, the primary driver of demand has been the risk of global market uncertainty. Gold stands as a haven asset and gains value when all other investments are lagging. One of the biggest risks is inflation, which was expected to rise rapidly in light of the Federal Reserve's quantitative easing programs during the 2008–2014 period.
When inflation remained weak and resisted any significant gains, gold tanked. Gold futures have been losing ~6% on a YTD (year-to-date) basis. It lost an additional 1.03% on Wednesday, September 30. Other precious metals followed the league and dipped. Silver, platinum, and palladium dropped 0.38%, 0.98%, and 1.03%, respectively.
Article continues below advertisement
The chart above shows the relationship between gold prices and inflation. To depict inflation in the US economy, we can use the yield spread or the break-even spread. This measures the difference between the ten-year US government bond yield and TIPS (Treasury Inflation Protected Securities). The principal invested in TIPS is adjusted in-line with the CPI (consumer price index). The yield spread, therefore, seems to be a good proxy for the US inflation measure.
Tracking ETFs and miners
SPDR Gold Shares (GLD) lost about 28.3% of its value in 2013, falling another 2.2% in 2014 and yet another 2.7% so far this year. Rapid currency depreciation, especially in emerging markets, has boosted the appeal of what some consider to be an alternative currency and store of value.
SPDR Gold Shares (GLD) and iShares Gold Trust (IAU) are both trading low on a YTD basis, owing to the decline in gold prices. They dropped 5.92% and 5.77%, respectively.
Mining companies that have seen significant decreases in their prices due to the gold downdraft include New Gold (NGD), Eldorado Gold (EGO), and Agnico-Eagle Mines (AEM).
These stocks have shed ~55%, 52%, and 13%, respectively, on a YTD basis. Together, they contribute 11% to the returns of the VanEck Vectors Gold Miners ETF (GDX). GDX has declined 36% on the same basis. However, it has a marginally positive 30-day trailing return.