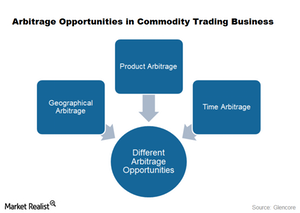 Why Glencore's Marketing and Logistics Business Is Crucial
By Mohit Oberoi, CFA

Oct. 30 2015, Updated 2:04 p.m. ET
Marketing and logistics business
Along with production activities, Glencore (GLNCY) is also involved in the physical trading of various commodities. In 1H15, such marketing activities accounted for ~78% of its consolidated revenues and more than 25% of adjusted EBITDA (earnings before interest, taxes, depreciation, and amortization).
Glencore also provides value-added services such as insurance, freight, storage, and financing. The company has a global network of storage and logistics assets including LME (London Metal Exchange)-registered warehouses. Some companies in the financial services space. (XLF) including Morgan Stanley (MS), and JPMorgan Chase (JPM) also own LME warehouses. Goldman Sachs (GS) was into LME warehousing but exited the business last year.
Article continues below advertisement
Arbitrage opportunities
Along with acting as a bridge between commodity suppliers and end-users, Glencore also tries to capitalize on arbitrage opportunities in different markets. The market for some commodities is fragmented. At times, there can be opportunities to buy and sell commodities at different prices in different regions. Using its scale and network, Glencore tries to capture such arbitrage opportunities. There are several different arbitrage opportunities Glencore tries to exploit:
geographical arbitrage: price differential in the same commodity in different regions after accounting for logistics costs.
product arbitrage: pricing differences between different grades of a commodity after taking into account processing charges.
time arbitrage: pricing disparity between spot and future prices of the same commodity after accounting for storage and financing costs.
The trading business carries significant counterparty risks especially when a company makes cross-border transactions. According to Glencore, it manages "any credit (including performance) risk in relation to suppliers and customers through systematically applying measures such as credit insurance, letters of credit, security arrangements, or bank and corporate guarantees."
Glencore's marketing and logistics segment works alongside its other production businesses. In the coming parts of this series, we'll explore Glencore's different business segments further.