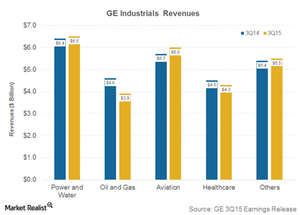 GE's 3Q15 Revenues: A Focus on Oil, Gas, and Aviation
By Mike Sonnenberg

Updated
GE's revenues in 3Q15
General Electric's (GE) 3Q15 revenues came in at $31.7 billion, 1% lower than 3Q14's $32.1 billion. Of the total revenues, $25.7 billion came from the industrial business and the remaining came from GECC (General Electric Capital Corporation). Note that the revenue figures for 3Q14 quoted in 3Q15 filings may not match those given in the 3Q14 filings, due to business restructuring and the company's acquisitions after 3Q14.
Article continues below advertisement
GE's industrial revenues
GE's power and water segment revenues grew by 1% to $6.5 billion in 3Q15, from $6.4 billion in 3Q14. The growth was driven by renewables (PBW), as the company shipped more wind turbines and generated higher service revenues in that segment. During the earnings conference call, management said that the company is expanding partnership with Exelon Corporation (EXC) in this segment.
Oil and gas equipment revenues took a big hit as customers curtailed capital expenditure amid weak crude oil and natural gas prices. The segment reported $3.9 billion in revenues in 3Q15, compared with $4.6 billion in 3Q14, a 16% drop.
Energy management revenues were down 2% to $1.8 billion in 3Q15, compared with $1.8 billion in 3Q14.
The aviation segment, which builds jet engines, was the star during the quarter with a 5% rise in revenues to $6.0 billion in 3Q15, compared with $5.7 billion in 3Q14. The company said that it is expanding its partnership with Boeing (BA) in this space.
Healthcare revenues were down 5% in dollar terms to $4.3 billion in 3Q15 from $4.5 billion in 3Q14. However, excluding the impact of foreign exchange on international orders, revenues from this segment were up 2%.
Transportation segment revenues were up 3% to $1.6 billion in 3Q15, compared with $1.5 billion in 3Q14.
The appliances and lighting segment reported a 8% rise in revenues during 3Q15 over 3Q14. Revenues came in at $2.3 billion in 3Q15, compared with $2.1 billion in 3Q14.
Let's see what's happening with GECC in the next part of this series.