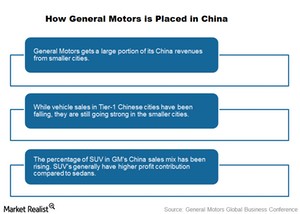 How Is General Motors Positioned to Tackle the Chinese Slowdown?
Chinese slowdown
Previously in this series, we discussed some of the headwinds faced by General Motors (GM). There is nothing much that automobile companies can do in South America, where vehicle sales have fallen off the cliff. To add to that, local currencies such as the Brazilian real have depreciated significantly over the last year.
Meanwhile, the Chinese slowdown is a bigger concern for automakers Ford (F) and Volkswagen (VLKAY). In this part of the series, we'll explore how GM plans to tackle the Chinese slowdown. Tesla (TSLA) has also faced challenges in China.
Article continues below advertisement
GM's China plan
According to GM, vehicle sales in Tier-1 Chinese cities fell by 11% year-over-year in the first half of 2015. However, the smaller cities have seen a healthy double-digit growth rate. GM gets 85% of its revenues from Tier-2 to Tier-4 markets. In GM's global business conference held on October 1, Matt Tsien, executive vice president and president of GM China, stated these facts as a "cause for tremendous optimism."
Moreover, the Cadillac and Baojun brands have done well in China (FXI). The percentage of SUVs in GM's China sales mix has been on the rise. SUVs tend to have higher profit contribution per car, which helped GM offset the challenging operating environment to some extent. Moreover, GM has a wide product range in China with product offerings that start with a $5,000 car and top out at a $100,000-plus car. According to Tsien, GM is further enhancing its product offerings with 26 "new and refreshed" cars over the next five years.
The Chinese government announced a sales tax cut applicable to the purchase of smaller cars. This should also benefit GM's China operations. In the next part, we'll explore how GM plans to protect its market in North America.