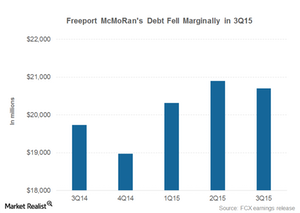 Freeport-McMoRan: How Equity Issuance Saved the Day
By Mohit Oberoi, CFA

Nov. 9 2015, Updated 2:04 a.m. ET
Equity issuance
The metals and mining industry is capital-intensive by nature. Companies have to borrow money to invest in plants and new mines. As a result, it's important for investors in mining companies to understand how these companies manage their leverage ratios. It's important to see the companies' debt ratios when market conditions are as challenging as they are currently. Glencore's (GLNCY) stock price fell sharply in September on concerns over the company's debt levels. Read Glencore: An Investment Overview of a Mining Giant to learn more about Glencore.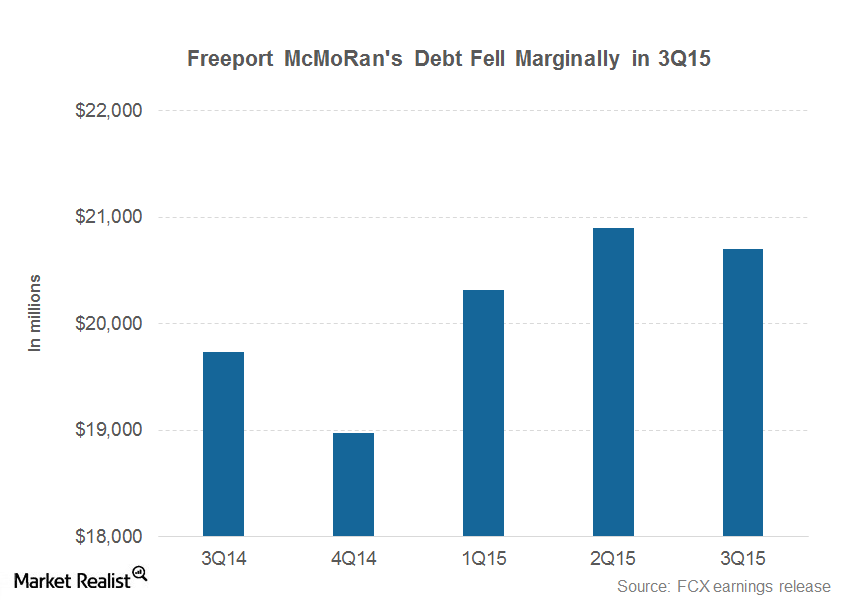 Currently, Freeport-McMoRan forms 0.16% of the iShares S&P Value ETF (IVE).
Article continues below advertisement
Higher debt levels
Freeport-McMoRan's (FCX) net debt was negative in 4Q12. This basically means that the cash on Freeport-McMoRan's balance sheet was more than its borrowings. However, Freeport-McMoRan had to borrow heavily to acquire energy assets. This increased its debt levels. Freeport-McMoRan's debt ratios are currently much higher than other mining companies', including Rio Tinto (RIO) and BHP Billiton (BHP).
In 3Q15, Freeport-McMoRan's total debt fell to $20.7 billion from $20.9 billion in 2Q15. Its debt came down as Freeport-McMoRan raised $1 billion from an at-the-market equity offering in the quarter. The debt levels could have increased further if Freeport-McMoRan hadn't raised cash by selling its stock.
Freeport-McMoRan was planning to reduce its debt. But lower commodity prices have changed the equation. It has had to defer its debt reduction targets since commodity prices fell. It also had to slash its dividend by more than 80% earlier this year in a bid to reduce the cash outflows.
Meanwhile, Freeport's management has expressed hope that the company's cash flows would significantly improve next year. What makes the company optimistic about its future prospects? We'll find out in the next part of this series.