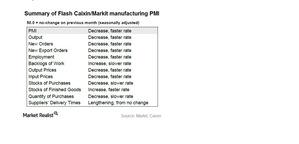 Flash Caixin/Markit Reading: Manufacturing Fell Again in September
Flash Caixin/Markit Manufacturing PMI fell more
China's flash reading of the Caixin/Markit Manufacturing PMI (purchasing managers' index) stood at 47 in September. It was weaker than expected. It was below August's final of 47.5. The manufacturing activity contracted for the seventh straight month due to a fall in the total new orders—both local and foreign.
The Flash China General Manufacturing Output Index fell to 45.7 in September—compared to 46.4 in August.
The flash reading is published on a monthly basis before the final PMI data are released. The final September PMI data will be released on October 1, 2015.
A reading of 50 is deemed neutral. A PMI reading above 50 means that production activities have expanded. A reading under 50 means that activities have contracted.
Article continues below advertisement
Fall in production output and its consequences
From the Caixin China Manufacturing PMI reading, it's evident that the manufacturing sector is shrinking at a fast pace. This creates a drag on employment.
The Chinese market is a major revenue driver for Apple (AAPL), Ford (F), and Boeing (BA). As a result, a fall in their output would directly impact the companies' revenue.
Impact on mutual funds
All China-focused mutual funds under this review—the Clough China Fund – Class A (CHNAX), the Fidelity China Region Fund Class C (FHKCX), the John Hancock Greater China Opportunities Fund Class A (JCOAX), and the Matthews China Investor Class (MCHFX)—have more than 10% exposure to the industrials sector.
Among the four, MCHFX has the largest exposure of 14% to the industrials sector. It's followed by CHNAX with 13% exposure to the industrials sector. These two funds are expected to feel the brunt of a slowdown in the production activities.