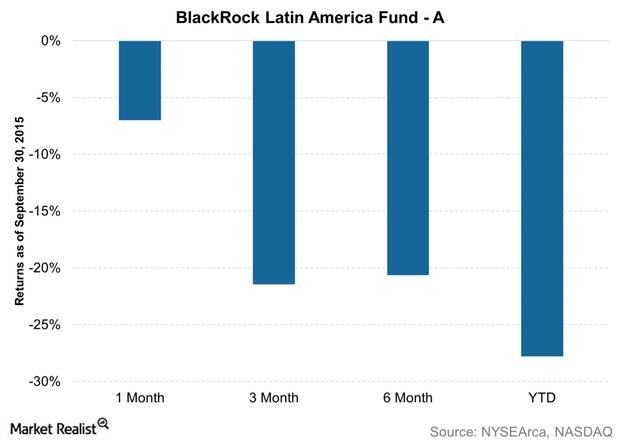 How Financials Hobbled the BlackRock Latin America Fund in September
By David Ashworth

Oct. 30 2015, Published 4:37 p.m. ET
Performance evaluation
The BlackRock Latin America Investor A Fund (MDLTX) fell by 7.0% in September 2015 from the previous month. In the three- and six-month periods that ended on September 30, the fund fell by 21.5% and 20.6%, respectively. In the YTD (year-to-date) period, the fund was down by 27.8%. However, from the end of September until October 28, the fund rose by 5.3%.
Among the nine Latin America-focused funds we're evaluating in this series, MDLTX has been an average performer, given its standing across the selected periods under review. For the quarter that ended in September, the fund stood in fourth place among the nine funds. It landed in fifth place for the six-month and YTD periods, and it landed in sixth place for the one-month period that ended September 30, 2015.
Now let's look at what contributed to this fund's performance.
Article continues below advertisement
Portfolio composition and contributions to returns
MDLTX has the longest track record among the nine funds we've selected for our review—it was launched way back in September 1991. According to its latest geographical disclosure, Brazil, Mexico, and Peru are the fund's top three invested geographies, in that order, making up ~94% of the fund's assets.
Since the latest complete portfolio of the fund available to us as of October 2015 is based on August 2015 holdings, we'll consider August as our base. For September, we'll consider valuation changes for our analysis. All portfolio percentages mentioned from here on refer to weights according to changes in valuation from August to September.
Here's a breakdown of MDLTX's sectoral contributions as of September 30, 2015:
Other negative contributors included Grupo Televisa SAB (TV), YPF SA (YPF), Companhia de Minas Buenaventura SAA (BVN), and Empresa Nacional de Electricidad SA (EOC).
Factors driving average performance
MDLTX's performance as of September 30, 2015, was negatively impacted to a great degree by specific stock picks in the financials sector. On the other hand, the fund's high exposure to materials sector stocks was a different move, compared to some of the other peers in this review. However, Cemex really drove the performance of this whole sector down. Nearly all of the fund's top stock picks had a bad September, thus resulting in a below average performance for the month.
Now let's move on to the T. Rowe Price Latin America Fund (PRLAX) in the next part of this series.