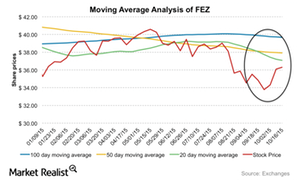 FEZ Hit by Global Woes: Closed below Moving Averages October 16
By Rebecca Keats

Oct. 22 2015, Published 12:25 p.m. ET
European ETFs
The SPDR EURO STOXX 50 ETF (FEZ) tracks the performance of the EURO STOXX 50 Index. It serves as a barometer for the European stock markets (EUFN). It tracks 56 European companies, with France and Germany the most heavily weighted countries at 37.6% and 30.2%, respectively.
FEZ is a well diversified fund with investments in multiple sectors such as financials at 27.0%, healthcare at 12.0%, industrials at 11.9%, consumer staples at 10.8, and consumer discretionary at 10.0%.
Its largest holdings are Sanofi (SNY), Total SA (TOT), Bayer, and Anheuser-Busch InBev (BUD). It has a market capitalization of $3.1 billion as of October 21. On average, 7.4 billion shares trade hands every day.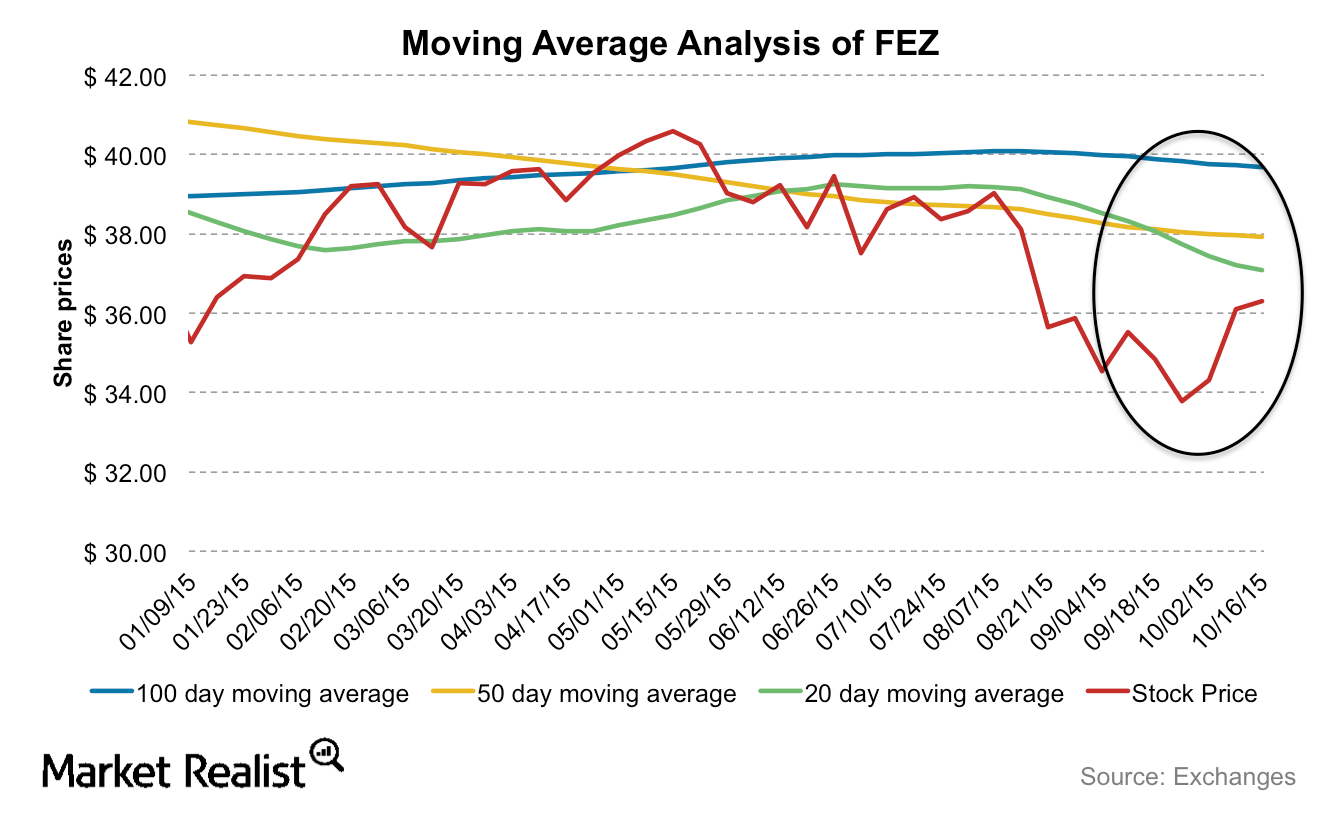 Article continues below advertisement
Moving averages
On October 16, 2015, FEZ shares closed at $36.30, below its 100-day, 50-day, and 20-day moving averages of $39.70, $37.90 and $37.10, respectively.
FEZ gained 4.0% but lost 7.2% during the last quarter due to global woes. This has led to a downward trend for the ETF. As you can see in the above graph, on September 18, the 20-day moving average crossed over the 50-day moving average. This is considered a sell signal and that the ETF has been trending south.
RSI
FEZ has a 14-day RSI (Relative Strength Index) of 46.5 as of October 16. This suggests the stock is nearing oversold levels. As you can see in the above graph, the RSI has come down from levels of 50 in August to nearly 30. Generally, if the RSI is above 70, it indicates the stock is overbought. An RSI figure below 30 suggests a stock has been oversold.