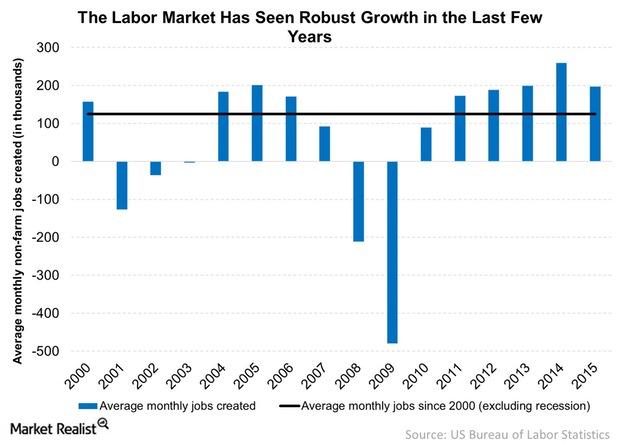 Why the Fed May Have Missed Its Window of Opportunity
Two Reasons Jobs Reports Don't Foreshadow Fed Action
Reason 1: The Fed may have missed its window of opportunity
The link between the monthly payroll report and monetary policy assumes that policy makers actually heed the data, and don't miss their window of opportunity to normalize interest rates.
But after September's payroll print, it truly appears as if the Fed's window of opportunity may have closed for now. Over the past three years, the Fed has effectively come to achieve its labor market goals, and such success invariably will result in a slowing of payrolls growth and a likely rise in wages, as qualified applicants leave the unemployment pool. While the September report was generally solid, with seasonality mostly to blame for the disappointing monthly payroll gain and accompanying downward revisions to July and August data, we are seeing the start of this transition.
Article continues below advertisement
As of September, the 3-month, 6-month, and 12-month moving average payroll gains came in at 167,000, 199,000, and 229,000, respectively. Though these are still impressive longer-run rates of growth, they clearly imply some slowing, as the job market's strength over the past three years has driven down unemployment. As such, looking forward, we should reasonably expect a decline from here in gross payroll gains. In other words, the headline data may come off the boil we've seen in the past few months performance.
Market Realist – The Fed's job has become more difficult.
The graph above shows the average monthly jobs created for every year since 2000 and the average monthly jobs created since 2000, excluding 2008 and 2009. As you can see, the last four years have seen above-average job creation. The economy has been producing well over 200,000 jobs on an average. Even in the boom years between 2004 and 2006, the economy only produced 185,000 on average each month. While the last two months have created only 139,000 jobs on average (August and September), this is still higher than the average of 125,000 jobs since 2000, excluding the recession years.
The problem for the Fed is that the 5.1% unemployment rate has reached what many economists feel is full employment. Most skilled applicants have already left the unemployment pool. With job growth likely to be muted relative to the last few years, the Fed's job will be more difficult. Thankfully for the Fed, inflation pressures remain muted, which gives it some room to delay the rate hike.
This means that rates are likely to remain low, which should support bonds (BND)(LQD)(TLT) further. However, as we head into earnings seasons, equity markets (VV)(IWM) are likely to pay more attention there.