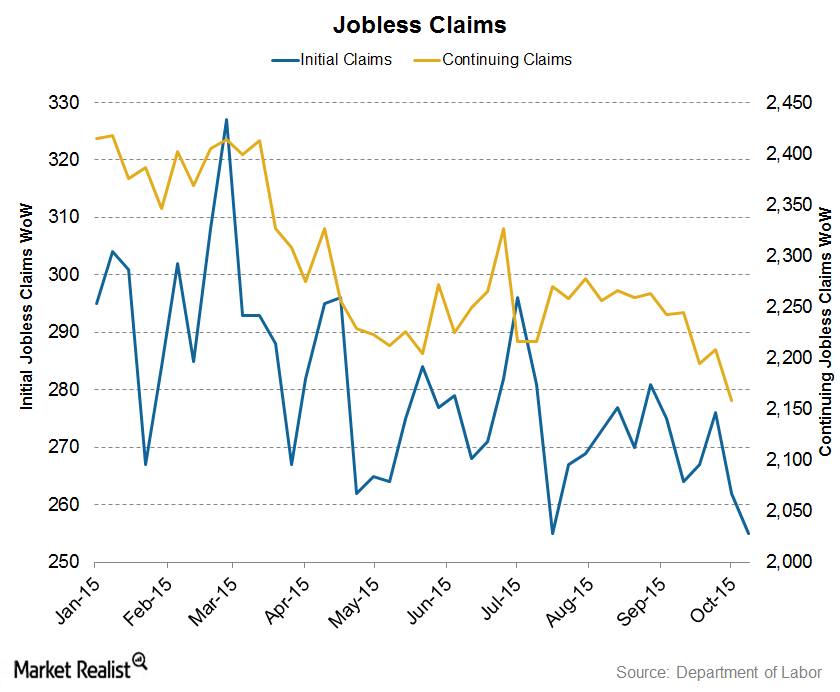 Falling Initial Jobless Claims Boost Consumer Sentiment
Initial jobless claims at 255,000
According to the US Department of Labor, initial jobless claims stood at 255,000 for the week ended October 10, a fall of 7,000 from the prior week's revised level. This was better than the consensus estimate. In fact, it was the lowest level since December 1973, when the reading was 256,750.
Article continues below advertisement
What comes after falling jobless insurance claims?
With a fall in jobless insurance claims, the number of Americans depending on the state's funds is falling. With an improving labor market, consumer sentiment tends to improve. The Consumer Discretionary Select Sector SPDR ETF (XLY) rose by 0.44% over the past week as of October 15. The ETF gained 21.8% from a year ago. Restaurant stocks McDonald's (MCD) and Starbucks (SBUX) gained 1.1% and 0.12%, respectively, over the past week as of October 15. Meanwhile, beverage stocks Coca-Cola (KO) and Pepsico (PEP) fell by 0.62% and 0.70%, respectively, over the same period.
Continuing jobless claims fell to 2158,000
Reported with a one week lag, the continuing jobless claims in the United States have also dropped to 2158,000 in the week ending October 3, 2015, from 2204,000 in the previous week.
Though there were no special factors noted for falling claims in the second week of October, a reading below 300,000 over a long time implies that the labor market is regaining strength with sustainable domestic demand and no substantial rise in claimants in the recent past.
However, this doesn't mean that there will be more hiring. With a weakness in the global economy, companies are getting cautious with floating new job vacancies.
Aside from employment reports, inflation is an important indicator. We'll cover it next.